A cell phone for a senior is crucial for keeping in touch with loved ones or summoning help in emergencies. A decade ago, owning a cell phone was not a cheap affair, which all changed when Tracfone for seniors was introduced. Tracfone is a wireless service provider that uses four wireless networks to deliver prepaid cell phone services.
Tracfone offers phone users low-rate plans that are ideal for senior citizens in need of phone plans with long service days, mostly up to 365 service days. Tracfone introduced pre-paid cell phone plans for seniors that allow them to pay for what they have used. Tracfone is the biggest cell phone carrier in the United States after Verizon, AT&T, Sprint, and T-Mobile. Tracfone focuses on moderate cell phone users, mostly from 55 years and above.
Tracfone Pricing and Plans
Tracfone has two types of plans- basic, phones, and smartphones. They do not have any contracts on their phone plans, and the prepaid cell phone plan ranges from thirty to ninety days or twelve-month increments. For example, if you buy a year-long plan, it lasts for 365 service days or until you deplete all your minutes. If you do not finish the minutes, they roll over to the next year as long as you buy a new plan before the old one expires.
Tracfone Plans for Seniors
Pay as You Go Plans
The basic Pay as You Go Plans is for Tracfone flip phone users. The second plan is the Smartphone Pay as You Go Plans for Tracfone smartphone users. The most common features for all Tracfone plans are:
No activation fees, contracts, bills per month, credit checks, or cancellation fees.
Tracfone offers nation-wide coverage and is available over reliable networks.
The plans are for moderate phone users and reasonably priced. They also have longer service days, mostly from 30 to 65 days.
The seniors Tracfone plan minutes, talk text, and data carry over to the next month/year as long as your service plan is active per month/year.
Features of the Basic Phone Plans
Limited service days from between 30, 60,90, or 365 service days.
Minute talk text and data
No activation, coverage, or cancellation fees
No contract
Nation-wide and reliable network
Tracfone has basic phone prepaid plans for as low as $9.99 per month but goes up to $99.99 or more for the annual plans. The upside to this is that you pay a one-off fee of $99.99 to $199.99, and you get 365 service days or until the minutes get finished.
To buy plans, you must buy service cards that have designated utilization minutes and service days. The service cards have a scratch-off code that redeems and activates the talk minutes on the service card.
When your talk minutes on your airtime card are depleted, you have to buy more or wait until you pay for the plan the following month. These plans are for seniors who are not keen on upgrading from basic phones to smartphones.
All the talk text that is placed or received is deducted from your airtime balance. Voice minutes are equal to airtime units/minutes, while data and texts have a much lower value for every user.
The clients can buy the airtime upgrade online via text or the Tracfone customer care line. For international calls, Tracfone clients can use the phone to make calls to over 100 countries via a company's specific number. The other option is to purchase an international airtime card for $10.
Tracfone Smartphone Plans
The Tracfone smartphone plans start for as little as $15 per month for 500 minutes, 500 MB of high-speed data, and 500 text messages. There are many Tracfone phone plans with 90 days of service and low cost plans for seniors. The Tracfone annual smartphone plans have 1500 texts, 1,500 minutes, and 1.5 GB of data for $125.
Tracfone smartphone plans' main downside is the lack of unlimited tiers for talk and text, which is standard for many MVNO plans.
Tracfone with Triple minutes
Tracfone offers promotions and deals when you activate new plans for Tracfone phones for seniors. The Tracfone minutes offer is for double or triple minutes for life with every new smartphone phone activation. However, Tracfone has recently resorted to limiting the double and triple minutes offer on certain Tracfone phones for seniors, and the offer is not extended to most newly added smartphones.
Tracfone Flip Phones for Seniors
1. Tracfone ZTE Z233 VL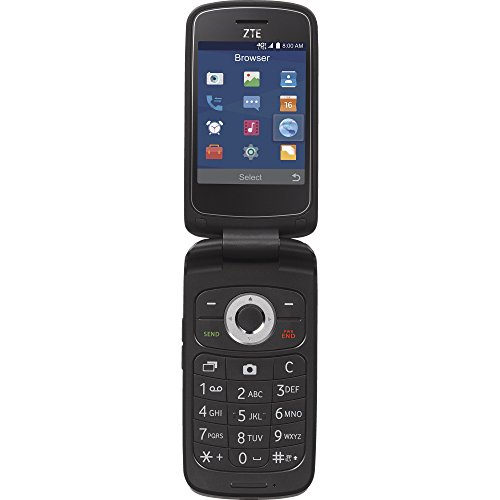 TracFone ZTE Z233 4G LTE Prepaid Phone
4G LTE; Text and Picture Messaging; Internet Access
Internal Memory 4 GB; Supports microSD Memory Card up to 32 GB; External Caller...
2 MP Camera; 1.1 GHz Quad-Core Processor; Bluetooth 4.1 Wireless...
Last update on 2022-08-10 at 12:06
The Tracfone ZTE C233 VL is a 4G LTE Tracfone flip phone. These Tracfone flip phones are available for $9.99 when you buy a Tracfone plan. The ZTE C233 VL has a 2.8-inch display screen, has a 2MP camera. The phone supports CDMA technology, and is hearing aid compatible (M4/T4). This Tracfone for seniors is compatible with networks like Sprint and Verizon.
The ZTE Z233 VL has a 512 GB internal memory and supports an external memory card of up to 32 GB. This phone has a Lithium-ion battery of 1500mAh.
2. ALCATEL MYFLIP A405DL

Last update on 2022-08-10 at 12:06
This Tracfone flip phone is one that you can purchase from the Tracfone Wireless store for $20, then buy a Tracfone flip phone plan. The Alcatel MyFlip is compact in design and allows you to access email and calendar preloaded at 4G LTE speeds. Alcatel MyFlip comes with features like a 2.8-inch screen and a 2MP camera.
The Alcatel MyFlip supports CDMA technology and has 512 MB of internal memory. You can extend the memory with a memory card of up to 32 GB. The Alcatel MyFlip phone is hearing aid compatible, and its Lithium-ion battery is 1350mAh. 
3. Tracfone LG CLASSIC Flip
This LG Tracfone costs $39.99 with a basic phone plan and supports 4G LTE speeds. The Tracfone LG Classic Flip features include a 2.8-inch QVGA screen and an external 0.9-inch external display that shows notifications and time. This phone has a long-lasting Lithium-ion battery of 1470mAh gives you 6 hours of talk time and a 2MP fixed focus camera. It has 8 GB internal memory storage and is hearing aid compatible.
The Tracfone LG is among the best Tracfone Flip phones for seniors with its emergency button on its back and other features. If pressed thrice, the Tracfone flip phone dials for help. For this reason, we vote for these great features for Tracfone flip phones.
4. Tracfone Doro 7050
The Tracfone Doro 7050 is among the best Tracfone for seniors. It is specially designed with safety and senior-friendly features. Other features of the Doro include:
Big fonts.
A well-spaced keypad.
A clear screen.
The most important, an emergency call button.
The $49.99 and below price is friendly for most.
The phones for seniors Tracfone Doro 7050 support GSM network technology and 4G LTE speeds. This model comes with an external display and a 2.8-inch internal screen display. It has a 3 MP camera with recording capabilities and is hearing aid compatible. Its 1350 mAh Lithium-ion battery keeps up to 11 hours of talk time. This Tracfone flip phone works with major United States carriers T Mobile and AT&T networks.
5. Alcatel Big Easy Flip Phone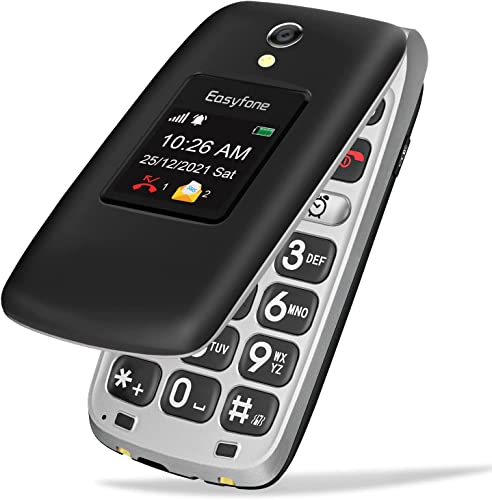 Easyfone Prime-A1 Pro 4G Unlocked Senior Flip...
Classic flip design, Flip to answer calls; Big button with talking numbers...
2.4'' HD ips Main Display + 1.44'' External colorful HD ips screen, Big Font &...
1500mAh Real capacity battery, Long time standby with a easy cradle charger,...
Last update on 2022-09-06 at 18:26
This is one of the most popular Tracfone phones for seniors and with excellent features. also, in the category of the Best Tracfone flip phones for seniors. The Alcatel Big Easy is designed with easy to use features for seniors. It has large fonts, clear display, caller ID, long-lasting battery, and alarm. It has an Mp3 player, Bluetooth connectivity, and a 2MP camera.
6. Samsung T245G
The Samsung T245G is one of the best phones for seniors Tracfone offers. It has a reasonable price, great features, and a free offer for double minutes for life, which means the subscriber receives double minutes.
The Samsung T245G hardware and software are easy to use, as Tracfone flip phones for seniors should be. It comes with a straightforward interface and design. Seniors can master the Tracfone flip phones within a few hours. For a senior who has visual issues, the device features a keypad with large and separated buttons and a large colored display.
This Tracfone device comes with a 1.55-inch main display, has Bluetooth connectivity, a 3 MP VGA camera, messaging feature, a second external display, and an organizer.
7. Tracfone Alcatel A383G Big Easy Plus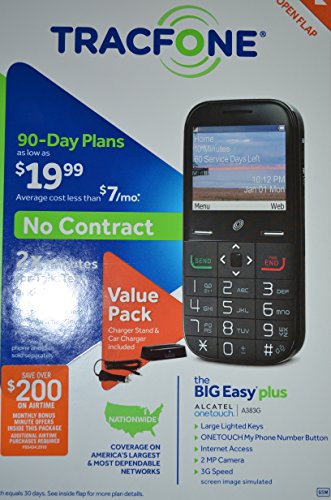 TRACFONE BIG EASY PLUS
Includes one Alcatel A383G prepaid, no-contract phone in retail package
3G speed, GSM network (same as AT&T).
2 MP camera, MP3 player, Large lighted keys, Bluetooth, car charger included,...
Last update on 2022-09-06 at 18:35
The Tracfone Alcatel A383G is also called the Big Easy plus because it's the best flip phone for seniors. It has features like large, easy to use key buttons, which are well lighted and with large numbers, and a clear display screen. It has a rubberized surface that prevents it from slippery and being dropped and works on GSM network technology.
The flip phone has internet access with 3G speeds, a 2 MP camera, and an MP3 music player. The phone comes with an affordable plan with no contract. The plan for seniors calls texts and data and costs at least $6 or $7 per month on average. The phone is sold separately from the plan and comes with double minutes for life for talk text, and data.
There are no extra charges for international calls to over 90 countries. The seniors Tracfone does not come with airtime, so you need to buy talk time from a Tracfone retail shop or their website.
8. Samsung Galaxy J7 Sky.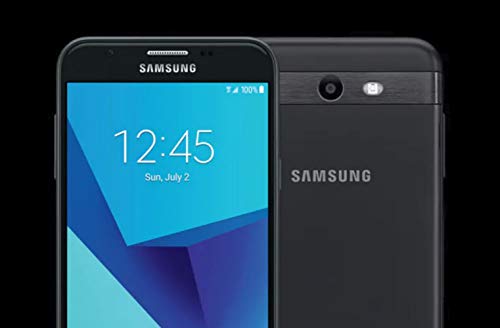 Last update on 2022-09-06 at 18:35
The Samsung Galaxy J7 Sky is a wireless smartphone designed for seniors and has features such as a large 5.5-inch HD screen for easier display. The J7 has an Android 6.6 Marshmallow operating system and 4G LTE speeds capability.
The J7 Sky has clear 8MP rear and 5 MP front cameras, Wi-fi capable, and has 4.2 Bluetooth technology with an MP3 player. It has an internal memory of 16 GB which you can extend with a Micro SD memory card or up to 256 GB. It comes with a 2-month or 60 day-plan with 2000 texts, 2 GB data, and 1000 call minutes.
Tracfone Compatible Flip Phones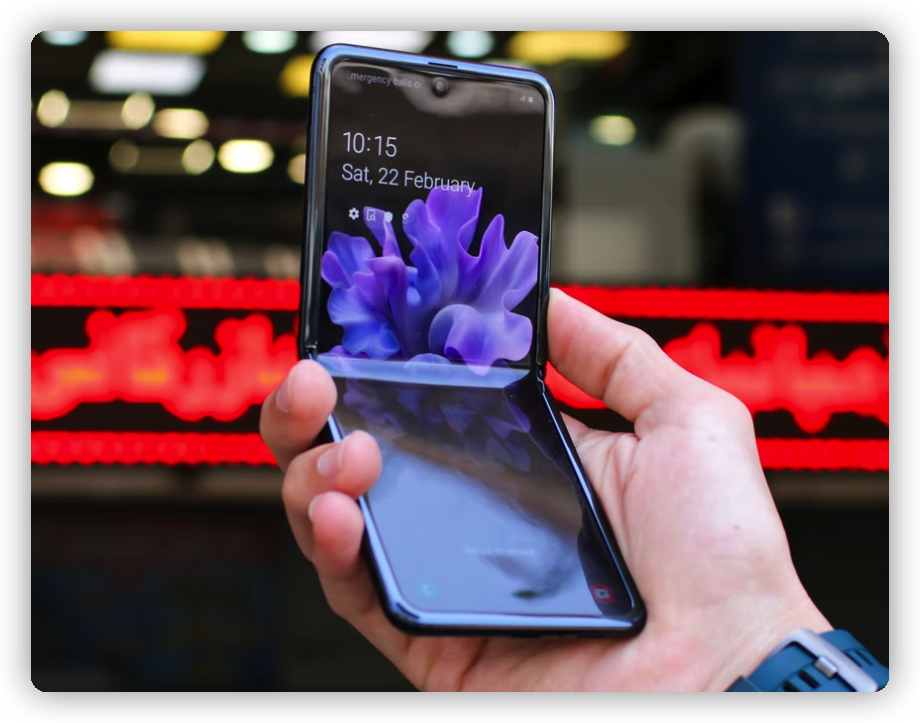 Other than phones for seniors Tracfone, you can consider using GSM unlocked phones for calls, texts, and data such as:
1. Easyfone Prime A1 3G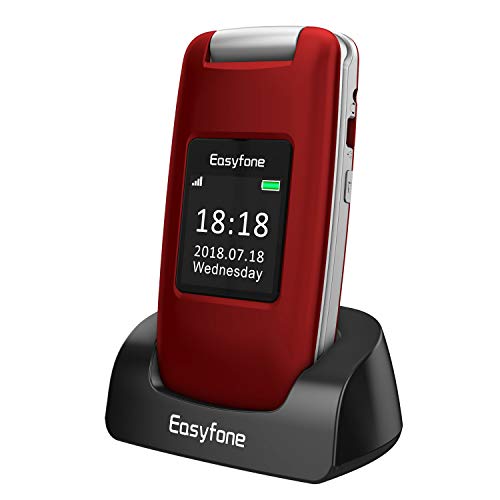 Easyfone Prime-A1 3G Unlocked Senior Flip...
Classic flip design, Flip to answer calls; Big button for easy dialing, Big...
2.4'' HD Main Display+1.44'' External colorful screen, Big Font & Big Icon for...
Special SOS button with ICE Manual; M1 and M2 Dedicated Direct dial keys and #...
Last update on 2022-09-06 at 18:35
GSM unlocked phones allow you to use any provider. What you need to do is buy Tracfone's KYOP (Keep Your Own Phone) package. The Easyfone Prime A1 is a phone for seniors with a 2.4-inch display and a keypad with big buttons and a backlight that makes it easier for them to type.
The Easyfone phone for seniors has an external display for caller ID, which shows the caller's photo and phone status. Easyfone A1 does not run on 4G LTE but runs on 3G and 2G networks. It also has a dock charger, SOS button, a 2 MP, 128 MB internal storage, and FM radio.
The phone is also hearing compatible aid device for seniors with hearing problems.
2. Ushining Flip Phone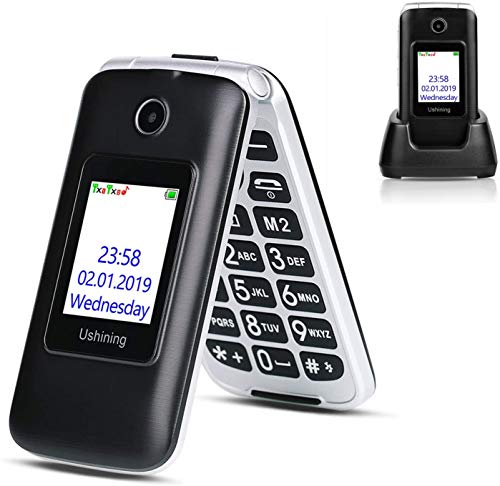 Ushining 3G Unlocked Flip Cell Phone for...
【Carrier】Ushining 3G flip cell phone, work with prepaid sim card like AT&T...
【Super Convenient】Easy to Charge the Phone(Charge by the Charging Dock Or...
【Additional Features】Alarm clock,Calculator,MP3/MP4 Player,Bluetooth: 3.0,FM...
Last update on 2022-09-06 at 18:35
The Ushining phone is a dual SIM, GSM unlocked phone but does not support 4G LTE speeds, only 2g and 3G. The Ushining has a keypad with large and clear fonts, and you can program up to 5 numbers on its SOS emergency button.
The Ushining has a 900mAh Lithium-ion battery which lasts for long as the phone uses low energy. The standby battery time is between 150-180 hours and 4 to 5 hours talk time.
The other Ushining phone features include FM radio, 0.3 MP Camera, and Bluetooth. The phone also has pre-installed apps that ensure you do not need to download anything. It has 128 MB of internal storage, and you can expand this with a 32 GB memory card.
3. Alcatel QuickFlip 4044C
Alcatel QUICKFLIP 4044C | 4G LTE | HD Voice...
Will a GSM phone work for me: GSM unlocked phones will work on Supported...
Will this work for me: (GSM): 850, 900, 1800, 1900, 2100, 4G LTE: 1, 2, 4, 5, 7,...
How long will it last me: The battery capacity is 1350 mAh (a Removable...
Last update on 2022-09-06 at 18:35
The Alcatel QuickFlip 4044C flip phone for seniors has a 2.8-inch screen display and a colored external 1.4-inch screen. The phone is 4G LTE and supports Wi fi and, as an unlocked GSM device, the phone supports any provider.
This device has a quad-core processor and has a 512 MB of RAM. The phone's internal storage is 1 GB, and you can add an SD card of up to 32 GB. The 1350 mAh battery has 6.8 hours of voice calls via 4G. The flip phone has a standby time of 330 hours, has a 2MP camera, and is hearing aid compatible (HAC, M4/T4)
With this phone being a 4G, you can make HD voice calls, with the fast network also allowing you to surf the web.
4. Plum Ram 8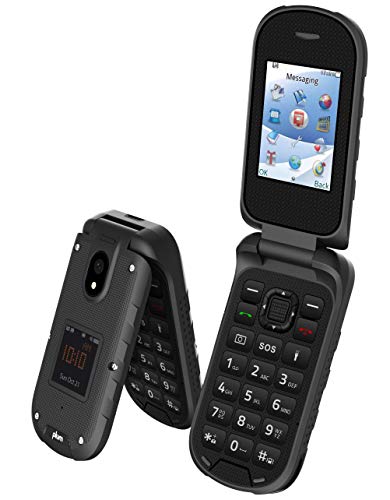 Plum Ram 8 - Rugged Flip Phone Unlocked Water...
NOT COMPATIBLE IN THE USA - Major Service providers in the US no longer support...
GSM Unlocked rugged Flip phone, Water Proof shock proof IP68 Certified, Military...
5MP camera, 2. 4" Display, world phone including Canada, Mexico, Australia and...
Last update on 2022-09-06 at 18:45
The Plum Ram 8 body is covered in rubber, which makes it water and shock-proof. The phone is 3G and has bluetooth, but no Wi fi. The phone has an FM radio that you can connect to a speaker. This phone was not specially designed for seniors, but it works well for them with its bulging keypad, easy to press, and a dock charger for seamless charging.
The 1200 mAh battery does not need a lot of charging as it provides 120 hours of standby. The camera is 5MP and is better than the cameras of the best Tracfone flip phones. It is also one of the best older Tracfone compatible models.
FAQs
Does Tracfone have a phone for seniors?
Yes, Tracfone has several different phones for seniors. You can go to a Tracfone retail shop or check on their website for the different types of flip phones and smartphones.
What is the easiest cell phone to use for seniors?
The easiest cell phones for seniors to use are flip phones. Most of the phones have big fonts, big buttons and keypads, and emergency buttons.
What is the easiest Tracfone to use?
The easiest Tracfone to use is the Alcatel Big Easy Flip Phone. It has easy-to-use features and large fonts, and a well-lit and easy-to-see keypad.
Can senior citizens get free cell phones?
Yes, senior citizens can get free cell phones if they live below the recommended federal poverty lines. They also need to be on an active government aid program like Supplemental Nutrition Assistance Program, Public Housing Assistance Program, Veteran's Pension and Survivors Benefit, etc. To get the free phones, they have to prove their eligibility.
Can I finance a Tracfone phone?
Yes, you can. In conjunction with Affirm, Tracfone offers 6, 12, or 24- month payment Tracfone plans for seniors for a few select phones. You can apply during checkout and get immediate credit. If you have a good credit standing, your APR (Annual Percentage Rate) can be between 0% and 30%, and you may need to make a down payment.
Does Tracfone Have a Return Policy?
Any phone bought directly via the Tracfone website is returnable within 30 days of its delivery. You have to cater to the return shipping cost. When you return the phone, it must be in good condition.
You have to return it in its original packaging and include all its accessories and a copy of your purchasing receipt. If you bought the phone from a vendor, the return policy is subject to that vendor's return policy. The service plan cards and sim kits are not returnable.
Conclusion
Tracfone is one of the carriers with the best flip phones for seniors. It has low cost and affordable price of phones that they combine with great plans and deals. If you use data over 3GB per month, Tracfone will be an expensive option. That's why it is good for seniors who rarely use a lot of data.
Most seniors only need the basic- to keep in touch by making calls, texting and for the tech-savvy, a bit of browsing. If you buy more talk time than you can use, you have to buy another plan to have the minutes roll over, If you discover you do not use up much airtime, you need to take you plan down a notch to avoid too much airtime rolling over to the next month.