Introduction
As of February 2019, 96% of Americans owned a cell phone of some kind. Of them, 81% owned smartphones – up from 35% in 2011.
Today, staying connected is more important than ever. But getting a smartphone alone isn't actually enough – you may also want to get yourself a cell phone plan to save money on internet data and talking in the long term.
Cell phone plans can be expensive though – well, if you are shopping for a phone plan on a budget, then you will find a few recommendations below! Then, to help you choose correctly, we'll also briefly cover important features to consider in cell phone plans.
Top Cheap Cell Phone Plans
1. Visible – Best Unlimited Cell Phone Plan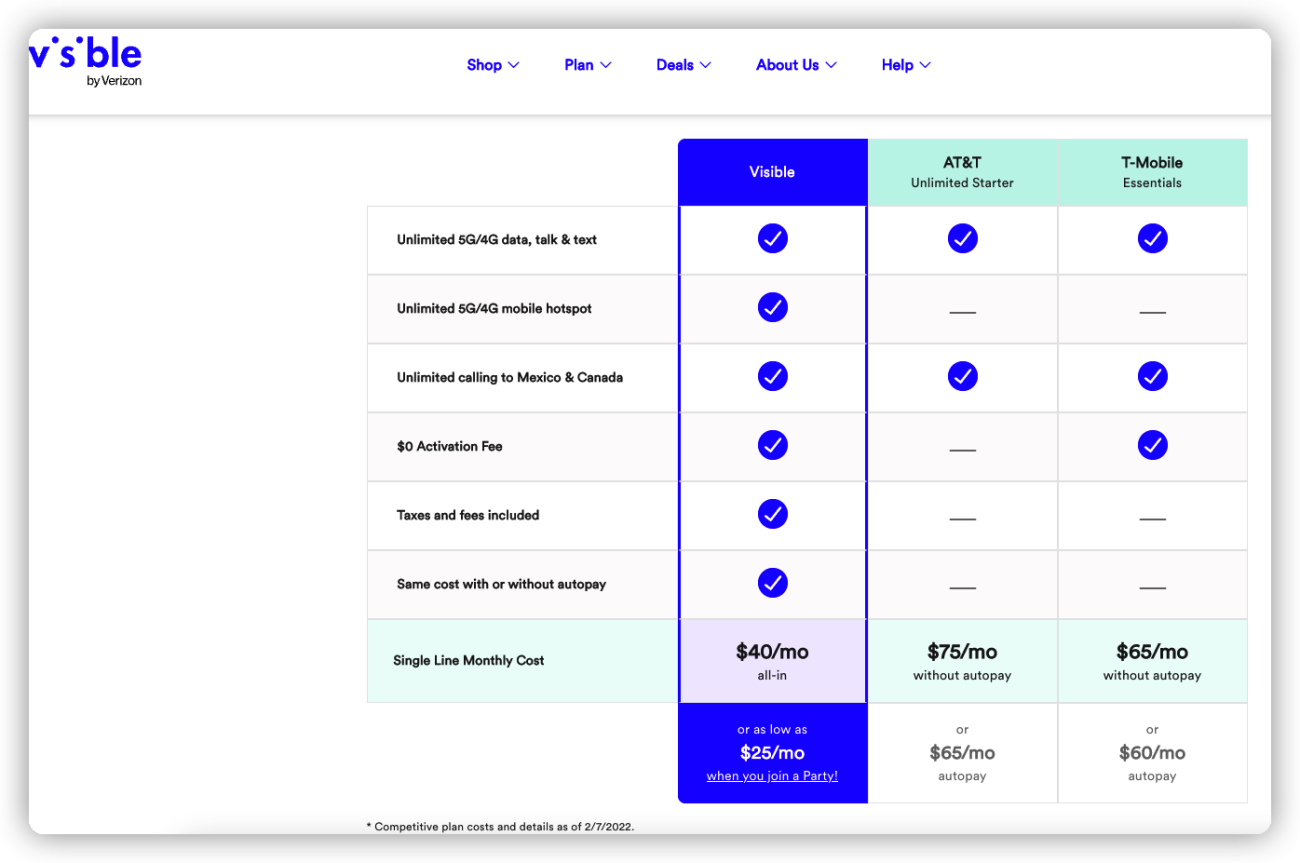 $40 per month.
Unlimited minutes, messages, data, and hotspot.
Based on Verizon's 4G LTE network.
Visible is the best option for heavy talkers and internet users. This service only has one plan priced at $40 per month, and it offers unlimited minutes, messages, data, and hotspot usage. Visible has no hidden fees and offers discounts for parties of 2, 3, or 4 too.
Visible is based on Verizon's 4G LTE network, so the internet speeds should be more than enough for most users. The company is also planning to make 5G available to owners of 5G-compatible phones at no additional cost.
Arguably the best thing about Visible is simplicity – you don't have to wrap your head around several plans to make a choice. And yeah, the unlimited everything is super-nice as well.
2. Republic Wireless – Best Cheap Cell Phone Plan For Calls & Texts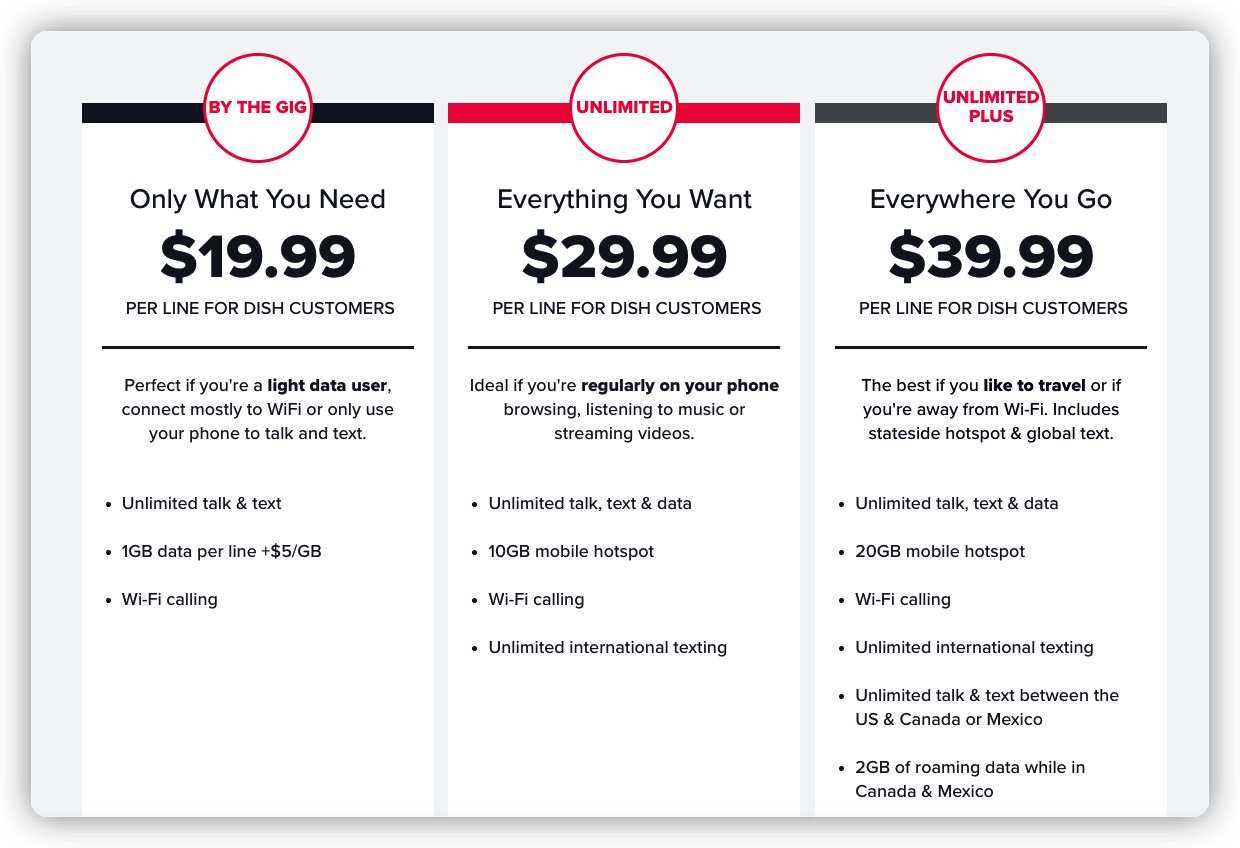 Starting from $19.99 per month.
Unlimited calls and texts.
Coverage by T-Mobile and Sprint.
If you need little to no data, then Republic Wireless is an excellent choice. The base Talk & Text plan offers unlimited calls and texts with zero data.
If you want data, then you could purchase it for $5 per GB. But data with Republic Wireless isn't too cost-effective, so we wouldn't recommend them for internet unless it's the best choice in your area.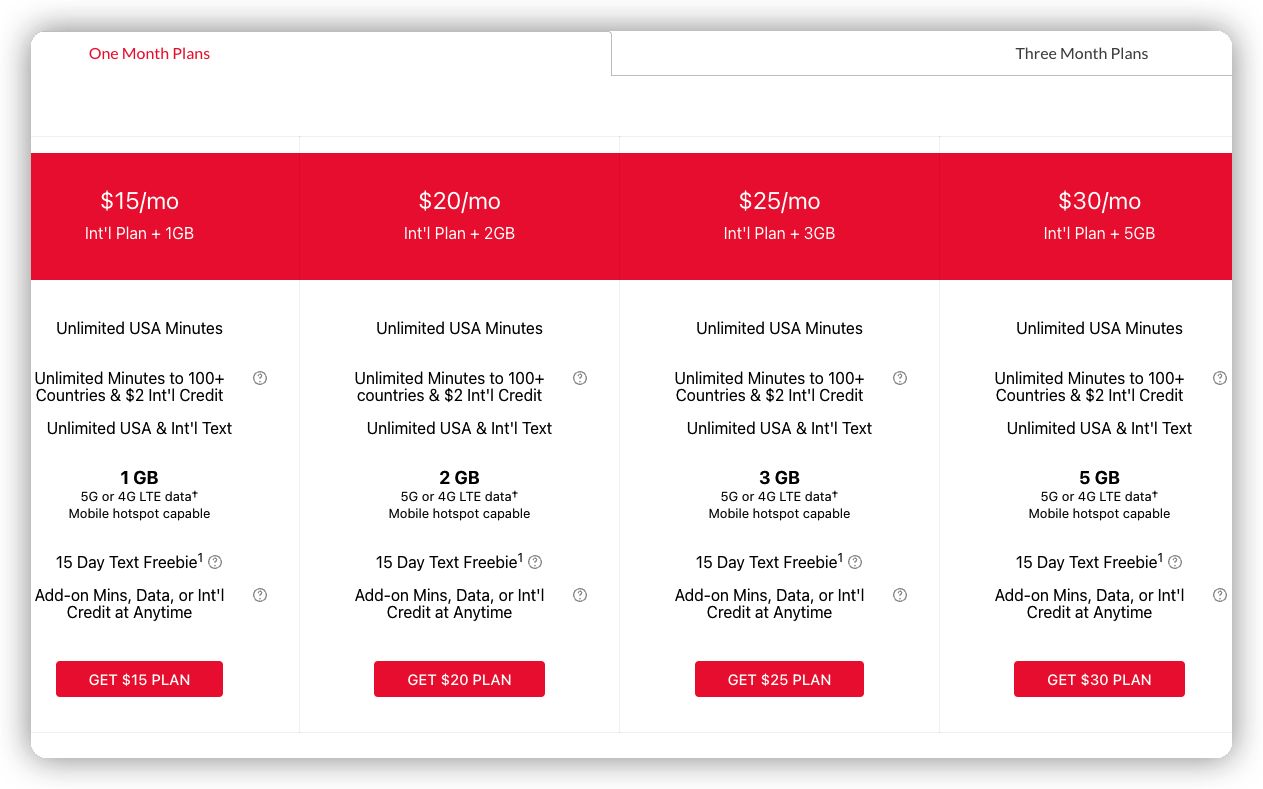 $15 per month.
Unlimited calls to over 100 countries.
Unlimited USA minutes and texts.
1 GB data.
Buy 1 month and get another month for free.
Coverage by T-Mobile and Sprint.
Many other cost-effective call & text/data plans.
If you are looking for a cheap cell phone plan for international calls, Gen Mobile's Int'l + 1GB Plan may be for you. Costing just $19.99 a month, this plan offers unlimited calls to over 100 countries, unlimited domestic calls and texts, as well as 1 GB of data.
Gen Mobile offers more expensive international cell phone plans with more data as well, going up to $30 per month with 5 GB.
The data plans of Gen Mobile are pretty nice too, ranging from $10/mo for 1 GB to $30/mo for 6 GB. These plans offer 4G LTE or 5G coverage.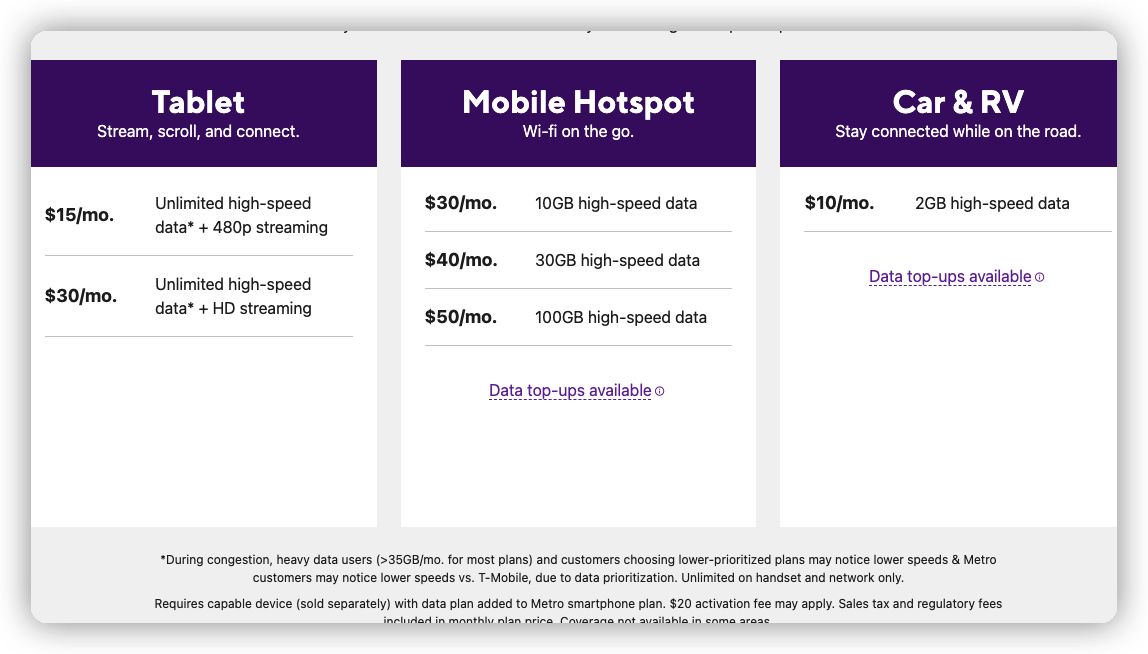 Starting from $30 per month.
Unlimited talk and text.
High-speed data ranging from 2 GB to unlimited.
Music Unlimited included in the $40/mo plan.
Extras like 100 GB Google One storage and Amazon Prime (terms apply).
Coverage by T-Mobile.
Metro by T-Mobile is an excellent option if you want plenty of data for streaming. The $50/mo and $60/mo plans include unlimited high-speed data. Lower-tier plans are limited to 2-10 GB.
The plans include unlimited talk and text too, and the $40/mo plan also includes the Music Unlimited service with access to Pandora, iHeartRadio, Apple Music, and more.
The $50 plan includes 100 GB of cloud storage with Google One as well, while the $60 plan also provides you with access to Amazon Prime.
5. Tracfone – Best Cell Phone Plan For Kids
Starting from $15 per month.
Includes 500 texts and 30 minutes of calls.
Tracfone is a nice option for children thanks to its cheapness and features. 500 texts and 30 minutes of talk for $15 per month is a nice deal. This plan includes no data too, so if you don't want your kid to roam around on the internet, it's a good choice.
6. Consumer Cellular – Best Cell Phone Plan For Seniors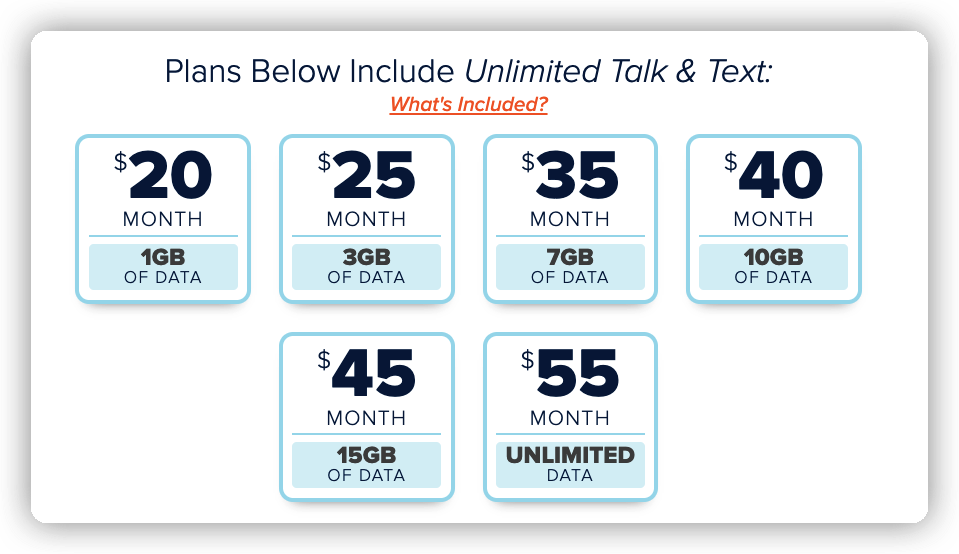 Starting from $15 per month.
AARP members get 5% discounts.
Various plan options.
Thanks to its AARP deal, Consumer Cellular is a particularly good option for seniors. AARP members get 5% off their monthly fees, and according to Consumer Cellular, the savings of the average AARP member are $24 annually.
If you buy more than one line, you are going to get a better deal as well.
Consumer Cellular offers a rather wide range of plans too. Those who don't need any data could get the $15/mo plan with 250 talk minutes. For $5 more, you may get unlimited minutes.
If you also want some data with your plan, then you again have options starting from $20 per month. Data plans include minutes (250 or unlimited), unlimited texts, and data from 500 MB to unlimited.
Should You Get A Prepaid Cell Phone Plan?
Now, the cell phone plans overviewed above are all prepaid, meaning that you pay a fixed amount at the beginning of the month to get access to plan features. Prepaid plans offer you a limited number of free minutes, texts, data, hotspot usage, and other perks.
In contrast, postpaid plans allow you to pay at the end of the month based on usage. You only pay for what you've used during the month.
With these differences in mind, who should purchase a prepaid cell phone plan?
Well, if you are consistently using mobile data and are talking a lot, then a prepaid plan would make a lot of sense. Prepaid plans are more cost-effective compared to postpaid plans, so if you stream, call, or text a lot, they would allow you to save a good amount of money in the long term.
In contrast, if your cell phone usage from month to month is inconsistent, then postpaid would most likely be a better choice. If you don't use much data or talk for half a year, then you won't have to pay a whole lot to your carrier.
What To Consider When Shopping For A Cheap Cell Phone Plan?
Cell phone plans are not created equal – you are going to see huge differences in included data, texts, minutes, etc. from carrier to carrier. With that, it's important to read the fine print and shop around to find the best deal for your pocket.
Here are a few important things that you should be paying attention to when looking for the right cell phone plan.
Network coverage
How good is the coverage of a service provider in your area? Ideally, it should be 99% so that you stay connected no matter where you are. Although low-price plans with poor coverage may be enticing, we think that coverage is absolutely worth the money.
Throttling
When the network is congested, many carriers employ throttling to ease the load on their infrastructure. Throttling is when the carrier limits speed and bandwidth.
Ideally, your phone carrier shouldn't throttle your connection no matter how congested the network is. In practice, most service providers do resort to throttling to improve stability.
With throttling, there are two things to keep in mind:
Does the service provider practice throttling when the network is congested?
If it does, when does the service provider throttle the connection? Some phone carriers only throttle the connection of low-tier plan holders. If you want to avoid throttling, you may want to buy a more expensive plan. But this will vary from carrier to carrier – some throttle everybody regardless of their plan.
Hidden costs & taxes
To avoid confusion, the plan cost should include all taxes and fees. Typically, carriers do include these in their plan price, but some don't.
In most cases when taxes and additional fees aren't included in the monthly plan price, service providers do explicitly state that. But if in doubt, you should always ask for clarification just in case.
Contract
Does the phone carrier force you into a contract? If so, then you may want to steer away.
If you are familiar with the service provider and like their services, then entering a contract for a year or two can be a good idea. Many carriers offer incentives for long-term commitments too.
But if you're dealing with a carrier that you've never used before, a contract wouldn't allow you to easily switch providers if you don't like something.
Terminating contracts early results in hefty termination fees. Unless you are 100% sure about a provider, you would want to be able to back out of the plan if you don't like it. And for that, you don't want to sign a contract – at least, initially.
Features
What do you want to get with your plan? Among the things to consider are:
Minutes.
Texts.
Data caps.
Hotspot limits.
Many phone carriers offer plans with unlimited minutes, texts, data, and hotspot usage, but these plans tend to be relatively expensive.
How much data or minutes do you think you will need per month? To choose right, try to assess your past use of cell phone data or minutes.
If in doubt, you could try a cheaper plan and upgrade in the future if it turns out to be insufficient for you.
It's difficult to give precise recommendations because everybody's cell phone usage is different. Some people want to stream high-definition video and play online games – these users may want unlimited data. Others just want to be able to talk and text but don't need internet.
Try to figure out what you need and choose accordingly.
Customer service
Customer service is crucial to consider. No matter how reliable a carrier is, you will certainly encounter issues in the long run. And when problems do pop up, you want to receive high-class customer care.
Read reviews online to find out how good the customer support of a carrier is. If you know someone who is using a plan from the carrier, ask them about their experience too.
Device requirements
These days, phone carriers typically allow newcomers to bring their own devices. Others may require you to buy a new phone within their network.
If you are looking for a cheap cell phone plan, then you probably can't afford a new phone. So do make sure that your plan is okay with you bringing your current device.
Price and value
Finally, consider price and value.
Price is the raw amount that you need to pay monthly, while value is what you are getting for the price.
The bitter truth is that some plans are outrageously expensive for what they are offering. In contrast, others are so cheap that they seem too good to be true.
With that, you'll have to determine what you want and find a plan that meets your needs while being easy on your wallet.
Also, figure out what "cheap" means to you. If you have a bigger budget, then you will be willing to pay a higher price for a plan.
In our opinion, a cheap plan should give you everything you want for a reasonable price. If you have to sacrifice a lot of features to get a cheap plan, that plan isn't "cheap" – it's outright inadequate for your needs.
Conclusion
Prepaid phone plans can be a good investment, but only if you need their benefits.
If your phone usage is inconsistent, then maybe you should use a postpaid plan. That way, you won't have to pay for a plan if you nearly don't use its features.
Otherwise, pick a prepaid cell phone plan. Prepaid plans are often more cost-effective and can save you a good chunk of money in the long term.
But when choosing a prepaid plan, remember to read the fine print and pay attention to what you are getting. Hidden fees should be especially carefully considered – ask the phone carrier about these if you aren't sure what you are dealing with.