AT&T mobile carrier can be expensive. How? Well, on, average AT&T usage for a month can be billed $80 for a month. It justifies AT&T as one of the most expensive carriers for cell phone plans. Some people even pay hundreds of dollars per month for peanuts as service in return. Maybe for the same reason, many people have started looking towards other mobile service providers to save more on cell phone plans.
The necessity of having an affordable network is why there are a more comprehensive variety of budget operators. These budget networks offer much more flexible data plans, service terms, and usage conditions than the four best big players of the niche, along with customer service.
Cricket wireless, one such affordable brand from AT&T carrier, provides the same flexibility of talk and text with all rights reserved. Cricket wireless is born by AT&T, therefore giving access to already better network coverage. However, all the better network coverage and services come at a much more modest price for customers.
Take a look at both, and let's find out who is better in both brands in real. Follow our extensive guide to the best speeds, new phone, data plan, talk, and text, and save money on major carriers.
Shift to the best mobile network to save more or not?
Which One To Choose? AT&T vs. Cricket Comparison
Both have their fair share of benefits, but AT&T offers more options of plans, new phones, free perks, and most importantly, the best coverage. Cricket has the most affordable plans on the same quality as the mobile carrier.
This comparison clearly states one winner with AT&T outperforming Cricket's options. So if you want to choose a cheaper option, choose Cricket. But, for performance, the choice is obvious.
While many will get confused thinking both are the same companies, there is much more to it. If you are from those customers who do not need many terms and conditions and will happily bear minute change in the data speed, go for Cricket wireless plans. However, not to burst the happy note, AT&T carriers have better plan perks than the Cricket platform.
AT&T carrier comes with much more to offer, from International roaming, talk and text, and high-speed data, mobile phone, and whatnot. Let us find out which network is more favorable in both the options based on data-speeds, plan choices, phone offers, and coverage. Save more on mobile phone and data plans.
AT&T carrier is world-renowned for its second-most coverage map behind Verizon, nationwide and beyond. However, as you know by now that Cricket wireless runs on the same network coverage as AT&T, carrier both are equals. So the coverage aspect stands at a tie for these two. 
1. Coverage Comparison
If you are looking for an excellent coverage map backed by a superior phone network, these two are great options to look at for the best wireless services. Also, providing roaming for Canada and Mexico for phone connection.
Final Verdict: TIE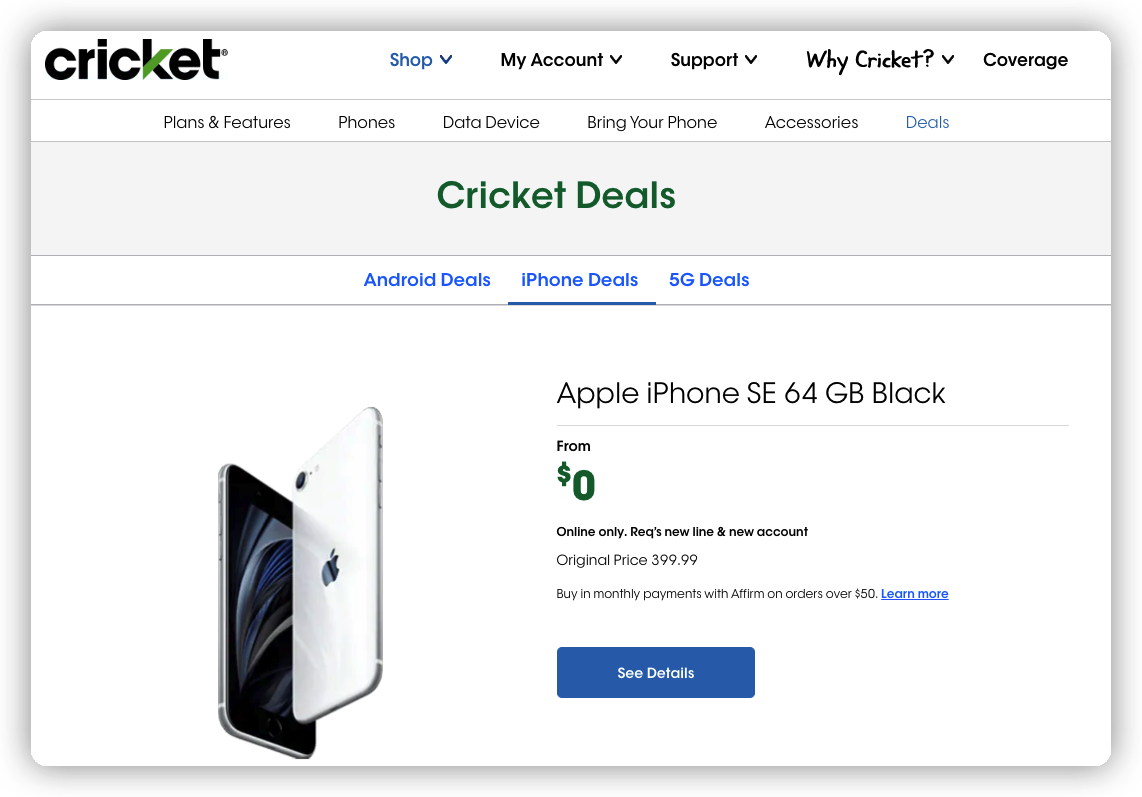 2. Data Speed
Cricket Wireless plans to run on the same network as AT&T's, but AT&T's speed for data-transmission is faster than Crickets. Why is that? Well, unmistakably, AT&T will keep the priority to provide better speed to its prime customers in times of AT&T network congestion. Cricket wireless data users have to make do with lesser data speed in times of such crisis.
This process is known as deprioritization, meaning temporary slowing down when required due to technical reasons. Not all customers have to go through this process of deprioritization. Chances are data speeds on Cricket are never going to get noticeably slow in such a congested state, still leaving this as a possibility.
Cricket wireless extends an unlimited plan like Core Unlimited Plan that limits your speeds. The speed is limited to 8 Mbps, with video streaming speed strapped at only 1.5 Mbps. Data speed is 8 Mbps is the same as 4G LTE speeds, which is suitable to do all of your daily mobile use. But Cricket, 1.5 Mbps is way below the 4G LTE limits. It will not give you the same best experience for watching videos on the phone as AT&T does. 
In addition to an unlimited plan for you, Cricket may have another feather in its cap. More Unlimited, the flagship plan from Cricket, also serves the video experience on 1.5 Mbps speed. Cricket wireless as a service provider may not be the brightest choice. But for those who can not function without binging on their daily dose of video streaming along with unlimited texting, get 4G LTE plans Cricket wireless.
Alternatively, AT&T vs Cricket serves their customers a very high streaming speed of nearly 33Mbps, as stated by them. You can choose from any unlimited-line from AT&T, will never have any issue with the download speed. Nevertheless, there are chances of slightly tapered speed in times of congestion on the starter plans. With fewer regulations and having no capping on the speed of data download, AT&T stands as a winner of the Data Speed.
Final Verdict: AT&T
3. Prices
Most of the MVNOs of their parent carriers have more affordable prices on their unlimited data plans than their parents. Cricket wireless plans have much cheaper plans than AT&T in the same sense.
Cricket has its cheapest unlimited plans starting from $55 per month. On the other hand, AT&T starts their unlimited plans from $65 per month to $85 every month.
When it comes to family plans, Cricket Wireless unlimited data have much cheaper options than AT&T. Multi-Line Core Unlimited family plan with four lines costs just $100/month. But the AT&T family elementary plans cost $140/month.
Final Verdict: Cricket Wireless
4. Perks
AT&T has its reward program called AT&T Thanks. Customers can choose their favorite options out of four, depending on their plan. AT&T is infamous for the perks and benefits they get their customers, like Premium channels like HBO, Cinemax, Starz, or Showtime for free. Else customers can also opt for free Amazon Music, Pandora, Premium, or Spotify. Also, customers can opt for sport and dining discounts and free priority customer service.
HBO Max phone subscription.
High data deprioritization thresholds in congestion times.
Unlimited talk text, data in Mexico and Canada while roaming.
Unlimited free texting to more than 120 countries.
HD streaming on the phone.
Dedicated mobile hotspot.
Of course, these will change and be applicable based on the plan you take from AT&T. However, in contrast, Cricket Wireless plans do not offer the same amount of perks anywhere close to the perks with unlimited data. Cricket wireless offers, roaming over the border, hotspot allowances, and texting 37 countries without changing phone numbers.
Cricket reward programs are discounts of using features, auto-pay paying bills on time, signing up friends, and many more. Indeed, perks like other networks are not available with Cricket to get free movie tickets with unlimited data. But come on, saving monthly money on your monthly phone bill is more than these offers. Canada and Mexico roaming options can get free unlimited talk and roam on 4G LTE data speeds.
Final Verdict: AT&T
5. Network Plan Options
Plan options of both networks, Cricket Core, and a few options in prepaid plans ranging from 2GB per month to unlimited plans with unlimited data. Besides, they have few sound family options as plans too.
AT&T has many more unlimited data plans and options than Cricket has for its customers. In other words, almost as double of them. AT&T mobile gets a hands-down win here.
AT&T Plans and Options
AT&T offers both options, prepaid and postpaid plans, for their customers. Similar to most of the biggest names in networks, AT&T phone offers many options to choose, and customize.
Customers can customize their plans based on the data, voice, and text usage. Following explanations can help you choose among many plan options on Cricket.
AT&T Prepaid Plans
1 GB at $35 per month and $30 with Auto-pay.
8 GB at $50 per month and $40 with Auto-pay
Unlimited plan at $65 and $50 with Auto-pay per month.
Unlimited + 10 GB Mobile Hotspot plan at $75 and $70 with Auto-pay per month.
AT&T Postpaid Plans
The prices of AT&T monthly cell phone postpaid plans are : 
Unlimited Starter Postpaid plan– $65/Single Line
Unlimited Extra Postpaid plan – $75/Single Line
Unlimited Elite Postpaid plan – $85/Single Line
Remarkably mobile hotspot is not available to the postpaid customers until the Unlimited Extra plan, which provides 15GB of hotspot data (30 GB for Elite).
Cricket Prepaid Plans
Cricket provide their customers with a variety of prepaid plans that comes with no string attached. The specialty of Cricket remains with the fact that they do not offer any postpaid option.
Cell phone plans from Cricket are as easy to get as coffee for yourself. Choose a device or bring your own, select a prepaid plan that suits you, and checkout.
Here are the options
2GB prepaid starter plan at $30
5GB prepaid starter plan at $40
Unlimited BYOD (bring your own device) at $40 for a limited time only.
Cricket Score Unlimited prepaid plan at $55.
Cricket More Unlimited + 15GB mobile hotspot prepaid plan at $60.
Cricket core plan get you unlimited data access on 4G LTE speeds. Although, the network might slow down in congestion, as explained earlier. Hotspot benefits of the Cricket Wireless platform, you will have to opt for their Cricket More Unlimited plan.
All of the prepaid plans, therefore, have one advantage over AT&T that they are cheaper than AT&T. In theory, the difference might look substantial, but most users will hardly notice a difference in their data speeds.
When it is the value that the customers require the most, the plan from Cricket will work. When it is about power in your hand, go for AT&T as your network.
Final Verdict: AT&T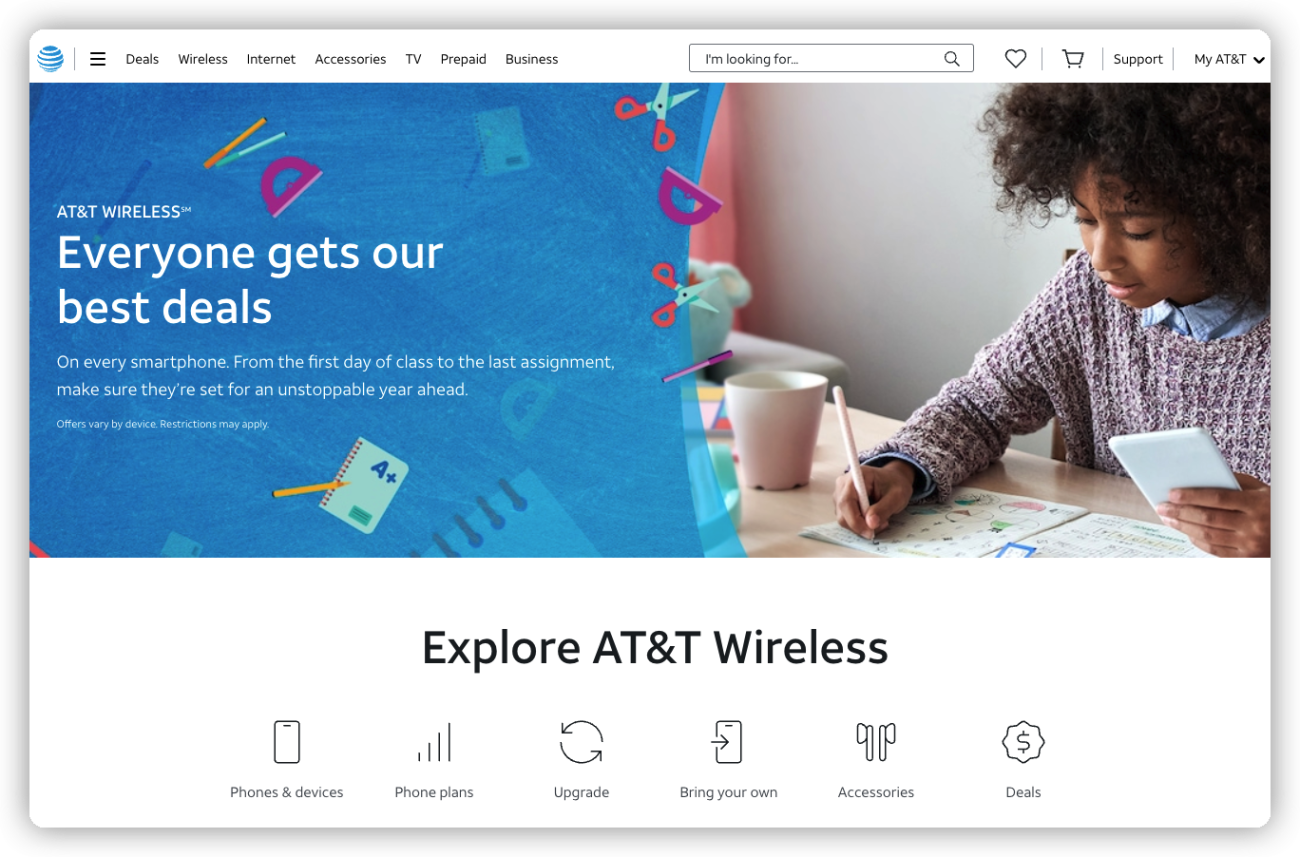 6. Buying and Leasing
One of the fascinating offers AT&T and Cricket provides is the option to purchase the latest flagships and budget smartphones. Cricket has a large inventory of budget smartphones under $300 that you can choose, with your bring your own phone plan.
Likewise, customers can also get these devices on lease-to-own from both carriers for cell phone plans. But with Cricket Wireless, there are chances you will end up paying more with interest payments. These payments are not upfront, but over time they will aggregate into a substantial amount.
AT&T, on the other hand, had the time and again proved to be superior to Cricket Wireless. AT&T allows you to lease their devices without any additional fees. Moreover, AT&T frequently extend incentives like discounted smartphones or free iPhones for new connections as well. These connections should be for postpaid options though they are still beneficial.
Budget network providers often have budget phones ties to high-interest payment plans. However, this is going to cost way more, and the right way is to buy outright or find other less expensive ways to pay for it. Opt for credit or bank loans instead.
Final Verdict: AT&T
7. Customer Service
AT&T customer support has a tad bit of a mellow reputation throughout the nation. However, if it can get any worse, Cricket fills in the shoes perfectly. Mostly, people equalizes price difference with the quality of service offered same is the case here. AT&T has now come up with a priority service option available only to the elite customers of the brand.
Cricket, on the contrary, has a bad reputation and can make you feel irked. Expect yourself to solve your queries and problems yourself or reach out to the online forums and self-help groups. Though, Cricket now has a live chat option, which can come in handy too.
Final Verdict: AT&T
Final Thoughts On Both The Networks
Cricket Wireless extends the best modest discounts on their monthly connection and some substantial savings on family lines as compared to AT&T networks.
For individual connections, the Cricket Wireless carrier is a smart option to choose, particularly with a limited offer of $40 unlimited BYOD plans to switch to Cricket without changing phone number.
AT&T
Pros:
Strong coverage and reliable network.
A large selection is available of plans and phones.
International perks.
AT&T stores are everywhere.
TV streaming.
Perks like HBO Go.
eSim compatible sim card option.
Cons:
Plans are way more expensive than most of the available carriers.
Low allotment of hotspots.
Low data deprioritization limit.
Cricket
Pros:
Works on the AT&T national coverage carrier.
Available with a large number of compatible phones and Bring Your Own Device and phone number options.
Unlimited international texting available for 38 countries with higher plans.
Significant savings on data plan available for family plans.
No activation fee.
Get a wide selection of budget smartphones available for customers.
An adequate number of retail stores.
Cons:
Poor customer service as compared to other networks.
No free music streaming.
Mobile hotspot is available with the highest plan.
Expensive unlimited LTE plans are more expensive.
Make the switch now with their family plans that are under no contract obligations. Customers can add or remove lines every month as per their need. Plus, the option of getting four unlimited lines for $100. However, the AT&T family plan stands at $140. Cricket Wireless is a more affordable network to make the switch.