When you connect your iPod to your Mac and then make the same connection with your non-Apple Mp3 player, the music experience and sound quality are completely different. There is no big issue, just that your Mp3 player has zero compatibility with iTunes. When you connect your iPod to your Mac or your Windows computer with an iTunes installation, the device is automatically recognized by iTunes and synced.
If you try to connect an Mp3 player from any other company besides Apple, you have problems with compatibility. There is a high chance that iTunes may not even recognize your Mp3 Music player. The truth about this is that there are no Mp3 players, smartphones or tablets (save for those from Apple) that have full compatibility with iTunes.
For non-apple players, you might need to perform some workarounds or install quality third-party software tools to enable your player to gain full compatibility with iTunes.
In this article, you will learn:
What is iTunes?
People who use quality Apple products are aware of what iTunes is, as are some non-Apple users. iTunes is excellent software in charge of your multimedia files such as music, videos, books, etc., on your Apple Mp3 players/ iPods, iPhones, Apple TVs, Macs, etc.
iTunes also doubles as your media player, media library, radio broadcaster, and your device manager. iTunes is also a client app, which gives you access to using iTunes store to buy apps, movies, TV shows, and of course, music. When you connect your devices to your Mac, the devices automatically show on the iTunes sidebar. You can then access iTunes and store your movies, music, apps, and books on the internal storage. iTunes is intuitive and easy to use for all users.
The macOS Catalina's introduction in October 2019 led to iTunes being separated by four different apps, i.e., Apple Music, Apple TV, Apple Books and Apple Podcast. Each of the four apps handles one multimedia as opposed to all multimedia. For update, sync and back up of your device, you need to engage a fifth software called Finder.
10 Best iTunes Compatible MP3 Players in 2022
Last update on 2023-09-25 at 17:40
Buying Guide
When buying a quality iTunes compatible Mp3 player, you first need to know some facts about using iTunes and the features to look out for when buying one.
Buy Last Year's Model
The quality and features of digital and iTunes compatible MP3 players mainly remain the same, so if last year's model will help save money and perform the same function, by all means, get that one.
Know Your Format
When you know the format of your music library, the better, if you have been buying quality digital music from the iTunes Store, you might find out you have been getting AAC file formats, which is Apple's favorite format, and not MP3 files. Luckily, numerous AAC-compatible players can work with the AAC format.
The same case applies to audiobooks. There are numerous audio formats, including Overdrive and Audible. Check to confirm if your MP3 player is compatible with the formats.
Buy Good Quality Headphones
Your headphones' sound quality makes a big difference, especially if you want to get the Mp3 player for workouts or for saving your music collection. The headphones will be a constant companion when you are listening to your collection.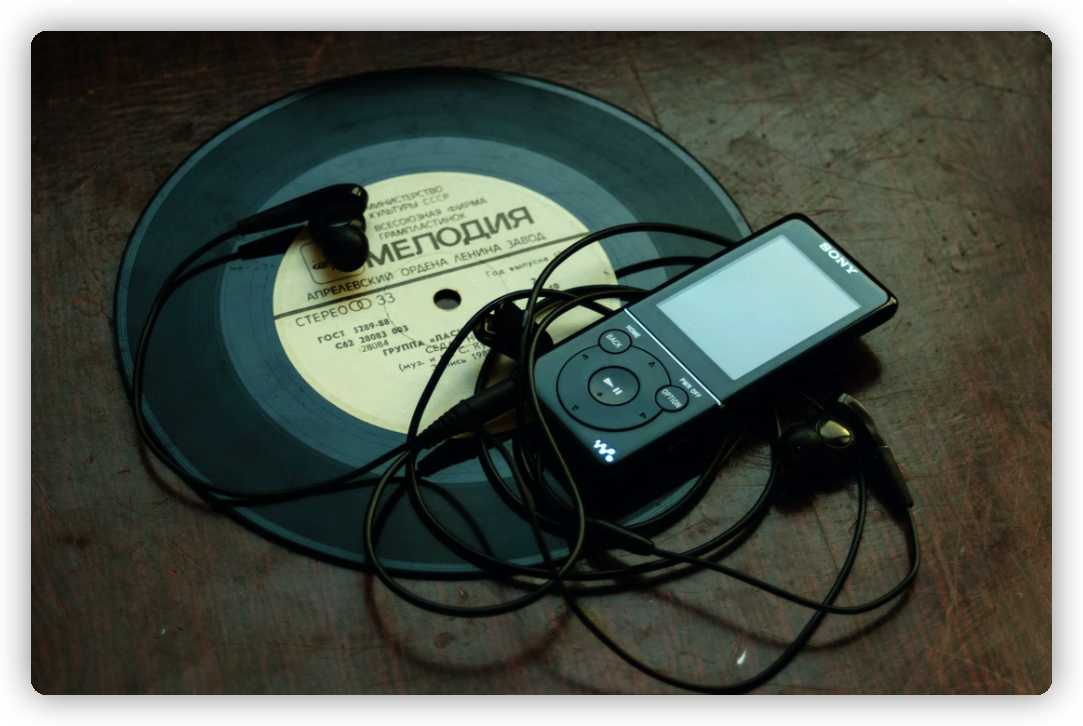 Storage Size
An MP3 player is like a computer and has internal storage that allows you to store music and other files. Features like storage of the devices should be a priority, and most players' storage capacities range from 2GB to 256GB.
Battery
The battery life of the MP3 player is the hours the player's battery will last for. Most MP3 devices have a battery life that ranges from 15 to 30 hours. 
Display
There are various screen display type features, from color displays, touch screens, or Multi-Touch retina display. Color displays are colored screens but cannot be controlled with a finger.
The colored screen display features have buttons for navigation and are easy to use. A touch screen display allows you to select with a finger touch, while multi-touch retina displays are a revolutionary first. They allow you to select with a finger but have a difference. The Multi-touch displays are designed for humans to read, meaning they have high resolution.
Video and Camera Capability
Photo displays are a novel addition to MP3 players. It allows you to view your photos from anywhere. Videos are also a new addition, and the video feature allows you to upload high-resolution videos or movies on your music player via Bluetooth or Wi fi.
Not all MP3 players have this capability, so if you want a device with these features, be sure to check if the player has them. These are high end players and the price might be a bit high because of the extra features.
Internet Capability
If you want an MP3 player that can access social network platforms, you may need a Wi-Fi capability player. To access these features, you have to connect to a wireless network.
Bluetooth
If you would like to transfer data via Bluetooth, check to confirm if the player you want has Bluetooth capabilities.
Price
If you are on a budget or need just a basic player for storing your music or audiobooks, look for a player with an affordable price tag.
iTunes and Compatibility on Non-Apple Devices
There has been a long-standing debate on why iTunes does not support other non-Apple devices. The argument has been that making iTunes compatible with various devices would mean iTunes and the iTunes Store would be in higher demand.
Apple focuses on selling hardware such as iPods and iPhones and avails the iTunes software to buy the Apple products. Apple makes more profit selling one device than they would be selling songs on iTunes. Apple, therefore, keeps the iTunes privilege for their hardware customers.
FAQs
What is the Difference Between the iPod And Other mp3 Players?
An Mp3 player and an iPod have one thing in common-they are portable and digital players. They serve the same purpose: to store different audio formats, including Mp3, AAC, WAV, WMA, or MIDI. You can play these audio files while on the go, much like the Walkman of the 80s and CD players of the 90s.
The most significant difference between the iPod and generic Mp3 players is the file transfer interface. This transfer is simpler via Mp3 players, but only when you are connected to a Windows PC. In most cases, transferring the files from local storage to the MP3 player is by drag and drop. Some of the best Mp3 players use proprietary software to transfer audio files.
File transfer on Apple Mp3 players requires the iTunes software's help, from which you can drag and drop the files. You can also sync your iTunes library with your iPod to save you the trouble of manual transfer. When you get the hang of the interface, it becomes super convenient.
What Does 'Compatible with iTunes' Mean?
When we talk of an Mp3 player being compatible with iTunes, it may mean two things. One is that it may refer to the MP3 player's ability to sync with iTunes. Two, it may mean the Mp3 player can play files bought from the iTunes store.
As mentioned before, non-Apple players are not fully iTunes compatible. Some of the best Mp3 players could have some compatibility level with some third-party tool help. These tools such as iTunes Agent (syncs Mp3 players with the iTunes Windows version, Double-Twist sync, which syncs your Android device with iTunes), iTuneMyWalkman, which syncs Mp3 players with iTunes, Mac version.
Are there any MP3 players compatible with iTunes?
No, you have to use a third-party tool to make even the best Mp3 player compatible with iTunes, and there is no guarantee it will be successful.
Can you use a non-Apple MP3 player with iTunes?
No. iTunes only syncs with Apple Mp3 players and other devices. If your non-Apple Mp3 supports the standard audio file formats, you can drag the iTunes music files to your Mp3 player, but not on the iTunes program.
How do I get iTunes to recognize my MP3 player?
For generic Mp3 players, you need to install third-party software tools to enable your Mp3 player to become compatible with iTunes.
What devices work with iTunes?
All Apple devices work with iTunes. Non-Apple products may or may not work via a third-party tool like Double-Twist sync, which syncs your Android device with iTunes) or iTuneMyWalkman syncs Mp3 players with the Mac iTunes version.
Can you use MP3 players for iTunes?
Yes, some Mp3 players allow you to play the music, but you cannot play via the iTunes program. When you buy an Mp3 player for iTunes, check that the audio format is compatible.
How can I play music on my non-Apple device from iTunes?
Go to your music library on iTunes. Tap 'Edit,' select 'Preferences.' Click on 'General,' and tap on the 'Import' setting. Select 'Import Using' and click on 'MP3 Encoder' on the menu that pops up. Tap on OK to save your changes and to play iTunes on your non-Apple Mp3 player.
How do you save an iTunes song on your MP3 player?
To convert your iTunes to MP3, search for the song in your iTunes library, then highlight it. Navigate to File, click on convert and then Create MP3 version. The song will be copied and stored in the new format.
What is the major difference between an iPod and an mp3 player?
iPods and generic Mp3 players are both digital music players and serve the same purpose. You can transfer music and audio files to their internal or external storage, then listen to these files later on the go. The significant difference is that the iPod works with iTunes for managing files and transfers, while the generic MP3 players do not use iTunes and do not sync with the iTunes program.
Can I Listen to Radio on My Mp3 Player?
Yes, if you buy an Mp3 player with an inbuilt FM radio, you can tune in to any FM radio channel you want.
Conclusion
If you want the best Mp3 player that is compatible with iTunes, you may not find one. Some MP3 players could work, but with a third-party software, which still does not guarantee you success.