Christmas of 2020 came with great deals for new Verizon Fios customers. Verizon Fios deals are all about improving their online signups, so they set and test out new promotional prices for the new Verizon Fios customers. Verizon Fios started the FTTH (Fiber to the Home) Internet service over 15 years ago in 2005. 
About Verizon
Verizon is a massive telecommunications company founded in 2000 and is headquartered in New York. It is famous for its all-fiber and wireless networks and business solutions. Verizon serves 150 countries, 99% OF Fortune 500 organizations, and runs over 1600 retail stores.
The FTTH made them among the first internet service providers to buy into the last-mile fiber internet plan. At the moment, Verizon Fios offers one of the most massive fiber networks in the United States. Their coverage spans nine states and is available to at least 34.8 million subscribers.
The Verizon Internet deals are available in New Jersey, Pennsylvania, New York, Delaware, Pennsylvania, Massachusetts, Virginia, Washington DC, New Jersey, and about 15 million businesses or homes use Fios services.
What is the best Verizon FIOS package deal?
Verizon Fios 300/300 Mbps Internet Plan
The Verizon Fios 300 Mbps internet plan is a very pocket-friendly package that costs $24.99/month. With unlimited wireless internet, and tax terms may apply. It comes with a Smart Plug and Amazon Echo Dot. By buying this new Fios internet plan, you will waive the $99 setup charge. You can easily save $20 every month with this unlimited internet plan with an internet speed of 300/300 Mbps upload and download speeds.
This Fios internet plan with 300 Mbps is suitable for one person or a small family who use the internet for basic needs such as streaming movies or Facebook. Netflix commands 5.0mbps for high-definition streaming and 25 Mbps for UHD quality (ultra-high-definition)
Verizon Fios 500/500 Mbps Internet Plan
The 500mbps internet plan costs $44.99/mo with unlimited wireless internet, and speeds of 500 Mbps and an extra package was thrown in for the Amazon Echo Show, and the $99 setup charge waived, but taxes terms may apply. This internet plan is suitable for a medium-sized family with more internet usage. 
Fios Gigabit Connection
For $64.99, you get a new Fios gigabit connection internet with a speed of 940 Mbps and setup charge waived, but remember, taxes terms may apply. The extras that come with this package include Free Amazon Echo Show 5, Fios router, Ring Stick up Cam battery, and a free Stream TV device.
The beauty about these plans, including the Fios Gigabit connection plan, is that they are all contract-free. For new Verizon Fios customers who are in a current contract with other providers, Verizon Fios buys you out of the contract by paying the fee charged for early termination fees for up to $500.
However, these amazing deals are only offered for a new customer who signs up online, and you get the standard setup charge waived a free stream TV device, and a $100 Verizon Fios Gift-card. The Fios Gigabit connection is suitable for large families or businesses with up to 100 devices or people who need high speed for multimedia projects and cloud backups.
Fios Gigabit Internet Plus TV Test Drive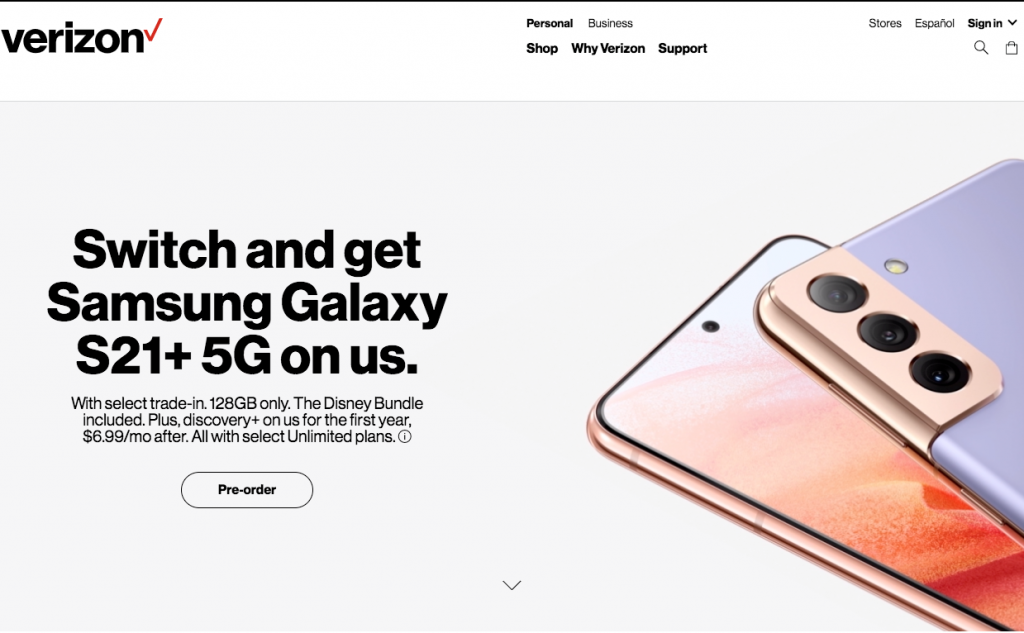 If you want a Fios TV plan that is inclusive of an internet plan, this offer is for you. The new Fios offers also include a Fios Gigabit connection internet of 940 Mbps for $129.99.
DSL is for people who need a Fios internet connection but are out of the Verizon Fios internet range. This will be enough for the average non-tech-savvy person who needs internet for checking emails and easy browsing. DSL has a 3mbps download speed and 77 Mbps upload speeds, which is just enough for easy internet usage.
If you intend to game or stream on DSL, you have to be ready for the latency. However, if using DSL and you are near Verizon's headquarters, you will be lucky as the internet speeds will be higher, with the data traveling a short distance.
If you want a Verizon Fios TV plan with hundreds of digital channels, the Most Fios TV is the package you need. It includes 425 digital channels and requires no annual contract. Additions in the package include a DVD, Set-top box, and a $100 Verizon Gift card.
This package also includes a two-year discount on the price and free setup. This special promotion will go on for the first two years of service after the purchase. If you do not choose the term agreement, Verizon will most likely increase your rate per month after 12 months or one year after purchase.
The Verizon Gift Card
The $100 Verizon Gift card offered for new customers can be used to purchase a new accessory, device or use it to pay your Verizon bill. Any unused balance on the card remains in the card until you spend it. When you get a Verizon gift card, it reaches you within two to five days. If you want to buy your own Verizon Fios gift cards, you can visit the Verizon website and buy for any amount you wish, to a maximum of $250 for a single Verizon gift card.
The Verizon gift card is not refundable and cannot be redeemed for cash, except in states where the law requires it. These Verizon Fios gift cards are as good as cash, so you should treat the Verizon gift cards with care.
Why Fios Fiber Optic Technology?
Verizon Fios is among the most creative companies in setting out new fiber-optic network or internet connection networks. In internet lingo, fiber is the current top standard in reliability and speeds. Fiber optic technology sends data via light bounced between plastic rods or glass and has the fastest download and upload speeds.
The download speeds of the deals in the Verizon Fios internet are typically five to ten times better than their competitors. The upload internet speeds are almost five hundred times better because they have no limitations like DSL and cable wiring. Even the 200 Mbps from Verizon is better than most competitors.
Despite Verizon Fios internet being the best, its main disadvantage is that it is only available in select areas. This is mainly due to the huge expense of fiber infrastructure installation. The Fiber-optic network is also only available in select areas.
The Difference Between Verizon High-Speed Internet and Verizon Fios
Fios different two types of internet networks:
Verizon High-speed network
Verizon Fios
The interesting bit is that the Verizon High-Speed internet is slower as it transmits data via telephone lines in a format called DSL (Digital Subscriber Lines). DSL connections are slower compared to Verizon Fios fiber but are available in more regions.
Other ISP providers compress their TV signals, sending them via copper cable lines, but with Verizon, the fiber optic lines are installed independent of each other.
Gaming works seamlessly on Fios, with the superfast downloads making it easy to download games fast. The minimization of latency on Verizon Fios internet plans and beats the competition hands down while gaming online.
Streaming videos is also a big plus of the Verizon Fios internet. When gaming online, a small amount of data is transferred. Streaming needs a faster transmission of data to ensure the videos play without buffering.
How the Verizon Fios Router Works
To use the Verizon Fios internet, new customers get a dedicated fiber-optic router. The Fios Home Router has two uses:
To receive incoming traffic data
To broadcast the same data to various devices in your network via ethernet or Wi-Fi
The Verizon router allows you to go online and to connect a home phone or more, tablets, or computers over Wi-Fi to the Fios internet plans and is considered the Wi-fi's hub.
Router Renting vs Buying Options
Verizon Fios has two router financing options when you sign up as a new customer. You can either rent or buy the router, but as mentioned before, if you sign up as a new customer for the Gigabit Fios internet, the router is free.
Renting or leasing the Verizon router is more expensive in the long run. Leasing becomes a better choice if you are not tech-savvy and do not want the hassle of troubleshooting your Wi-Fi when it has issues. A lease router includes an upgrade to a better router.
Buying a Verizon router is cheaper in the long run. This is for new customers who feel confident they will be Verizon's customers for several years and can set and reset their router if need be.
The Verizon Fios Home Internet Router costs about $299.99. and is up for rent at about $15 per month, which is subject to conditions. That sets you back approximately three hundred dollars upfront, which is a large sum of money. However, if you can afford it, you can recoup the cash in about a year and a half.
Verizon Fios TV DVR
Verizon Fios also provides other equipment leasing services such as DVR, which comes in two options:
Basic DVR with storage of up to 50 UD hours and costs $12 per month, and has two channels.
Multi-Room DVR Enhanced and Premium. The former storage is up to 100 HD hours at $20 per month, with 6 channels, and the latter has up to 200 HD hours and costs $30 per month, with 12 channels.
Verizon Fios Wi-Fi Installation
If you have decided to sign up for Fios internet, the installation process is very straightforward. If you opt for a professional to do the installation, they will provide you with a time frame for the technician's arrival.
If your home is already Verizon wired, they also allow self-installation. They will need to send simple but detailed instructions in a self-install kit. This option saves you the installation fee, but only if your home is already wired.
You are advised to use a Verizon-recommended router instead of a third-party device. The Verizon equipment is specifically built for working with the ONT box outside your home.
How can I get a Discount on Verizon Fios?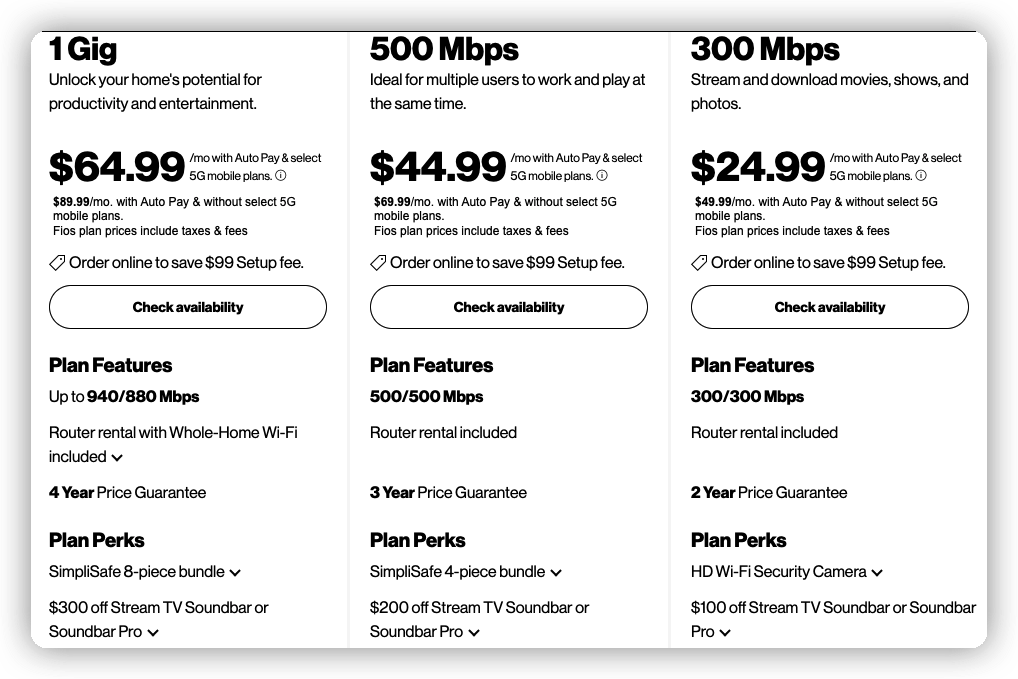 Getting a discount is dependent on the ongoing promotions at that time, but if you subscribe to the Verizon mobile plan and the Verizon Fios home internet, you can get a discount of up to 30$ on your monthly bill.
How much does Fios Triple Play really cost?
The Fios Triple Play is a Verizon bundle that is a mix of three Fios services combined into a single affordable package. With Triple Play, you can choose the internet speed you want, a high-definition Fios TV package, and a calling plan, all at an affordable cost. You can watch TV on the go via the Fios app Req. Compatible devices, Verizon router, and Fios TV.
The price of the Triple Play plan is auto-pay and varies depending on your internet plan and the current Fios offers. All Triple Play packages are designed to save you some money. When combined into one package, you save on three services-Internet, TV package, and home phone, as compared to buying them separately. To find out the Triple Play or double play plans available where you live, sign up online to get any new deals for new customers. Triple Play and Double Play are both ways in which customers can save money by combining three or two services.
What does FIOS Triple Play include?
Fios TV internet includes a Verizon Fios TV internet Plan, where a TV subscriber enjoys auto pay, control, and flexibility when they add a Multi-Room DVR. The set-top box's features are easy to use, such as Fios TV Voice Remote that allows you to search for programs and control the DVR via voice commands. Pandora, Netflix, and YouTube are integrated for easier streaming, 4K UHD capability for excellent picture quality, and Wi-Fi capability.
Whether you are a movie fanatic, a sports buff, or you are into historical documentaries, Verizon Fios offers are excellent and have channels in their hundreds to choose from. Choose a Fios TV internet package that meets your family's needs and watch premium channels like Showtime and HBO. You can get a sports subscription and get access to channels like MLB Extra Innings, Fox Soccer Plus, NBA League Pass, etc. If you want, you can add Spanish language packages to your plan or subscribe to international channels in more than twenty languages in the Verizon Fios offers.
How to get Verizon's Services
Check if it is available where you live. The Verizon website makes it easy to see if the internet is available in your area based on your address. Take advantage of signing up online to access the new customer deals.
Decide on the speed you want, and if DSL and Verizon Fios are available options, consider the speeds you need.
Sign up online and schedule an installation date.
What you Need for Verizon Installation
You will need:
An electrical outlet that is grounded and takes three-prong cords.
ONT (Optical Network Terminal), which Verizon provides. The ONT transmits data over the optic cable.
A router, which is the fiber connection's access to the internet, and is provided by Verizon. The router supplied has a firewall to protect you from hackers and unauthorized usage.
How to Cancel Verizon's Internet Service
Verizon does not have contracts for new customers, and you can cancel at any time. Before 2020, customers were required to get into a two-year contract for all those who bundled their services.
If you try their services and for whatever reason you feel you need to opt-out, you can do so at any time with no early termination fees or penalty fees if you are paying monthly. For existing customers who are under a previous contract, you may pay an early termination fee, which is prorated.
The proration means you will pay less if the contract was almost expiring. The maximum early termination fee you can pay is $350, and it reduces by $15 per month.
If you are renting or leasing equipment, you must return it within 30 days of service disconnection. Charges for unreturned equipment range from $100 upwards, depending on what you were leasing. A final bill will be due at the usual billing date.
How to Decide if Verizon is Right for You
Fios internet is suitable for streaming users, families, freelancers working from home, or gamers. It is not suitable for people who use public Wi-Fi and work on the go, families whose internet budget is under $40 per month.
Verizon is among the top ISP list, and if you are within the coverage area, you will be better off using their services. This is looking at it in terms of affordability, speed and reliability, and their different coverage levels to match your internet needs. Their only disadvantage, as mentioned earlier is their unavailability countrywide.
AppFlash
AppFlash is a service from Verizon that helps in discovering content and services. It works like a recommendation directory for restaurants, online entertainment content, apps, etc. The download and registration are easy, but it is only for certain Android phones.
Conclusion
Verizon Fios is trying to get more new customers to sign up online and are giving them great incentives for the same. Verizon has excellent deals for people with low budgets and still offer decent internet speeds. The Fios home internet plans with an offer to mix and match internet, TV, and home phone services.
Fios internet uses fiber optic, which promises you lightning-fast speeds and no latency. You do not share cables with neighbors as the internet is installed independently of each other. If you want to quit using the internet, you can do so with no repercussions of early termination fees if you are a new customer. The incentives for new customers are attractive, and you can choose the plan that suits you best.