Paying for digital downloads is bad enough, but it's getting even worse. Streaming services are taking over, and that's when ownership becomes extinct. We're reduced to paying for nothing more than temporary access to a library of content. Lose internet or miss a payment? Poof, it's gone.
We won't stand for it any longer! The good old days aren't completely gone just yet, and it's because of people like us – that includes all of you out there as well – knowing change isn't always better. Whether you have an old collection, like to buy new releases, or just burn your own, you need something to play your discs.
How to Choose the Best Multi DVD Changer
A high-quality multi DVDChanger is your best option if you have more than one disc that you plan to enjoy. If you're purely about the music, don't worry, we'll cover some CD only options as well. There is a vast variety of devices available, but we want you to have only the best. We're going to examine what you should look for when choosing the right player for you. Then, we'll tell you about our favorites.
Up-Conversion
DVDs have been around for about 25 years now. The top end of resolution back then was 480p. Heck, even 480i was still common. Modern TVs have so much more to offer. Yeah, we have Blu-rays now, but they're expensive. Besides, with the right machine, you can get pretty close to Blu-ray quality at a fraction of the cost.
Most people will be quite happy with 720p or 1080i. You'll rarely find an up-converting multi DVD changer that's not capable of both. There are raging debates to this day about which is better, but take comfort in knowing you won't sacrifice have to one for the other. 1080p, on the other hand, is a bit harder to come by.
1080p is pretty much the gold standard, and the best you can hope for when it comes to an up-converting DVD changer. 1080p is more than enough to get an incredible and crystal clear viewing experience.
Sound Quality
When it comes to DVD movies, Dolby Digital or DTS 5.1 is considered the top of the line. The great news is that since the technology has been around for a while, it's not that hard to find. Of course, you'll need a sound system to take advantage of this.
Sound is usually a more significant concern with audio CDs, as that is their primary purpose. A frequency response of 20-20,000 Hz (20 kHz) is ideal, and can sometimes be found in even wider ranges.
Compatibility
If you plan only to play commercially released CDs and DVDs, you probably won't need to concern yourself with compatibility too much. Most official productions will play just fine in almost any device. If you like to burn your own stuff, you might want to double-check to make sure everything will work ok.
DVD-R/-RW/+R/+RW and CD-R/-RW compatibility are things you need to be aware of if you use any of those formats. File types are important, too. If you want to look through a digital photo album, you need something capable of displaying image formats like JPEG. For audio CDs, MP3 playing ability is crucial, along with any others you might need, like WMA.
We can't forget about region lock. Different regions around the world have different standards for video. North America utilizes the NTSC standard, while Europe uses PAL. Everything we list here today is NTSC compatible, but take caution if you reside outside of North America.
Number of Discs
This one entirely depends on your specific needs. If you're interested in a CD or DVD changer, you'll probably want something that can handle at least five discs. Need something with a little more storage? Not a problem. We'll show you one below that most people will have trouble filling.
Convenience Features
Let's start with the obvious first, a remote. A multi DVD changer is an item of convenience, so it wouldn't make much sense to deprive yourself of one of the most convenient inventions ever created. This type of machine commands complete and total relaxation.
Aside from that, easy to navigate menus are a must. You need to be able to select the disc you want quickly and easily. Shuffle is also incredibly useful for those days you just want to hit play and let the music take you away.
Connections
Your new equipment won't be much good if you can't connect it to your TV or stereo system. Make sure you know what you need before purchasing. You can find something to fit almost any need. HDMI, RCA, component, optical, coaxial, and more. Preparation is key.
Best CD and DVD Changers – Our Top Picks
Now that we know what's important, it's time to check out the winners. A lot of thought went into the construction of this list, and we believe it offers something for everyone. You don't see a lot of new products flooding the market in this space. It took quite a bit of digging to unearth the real gems. Here's what we found.
Sony DVPCX995V 400-Disc DVD Mega Changer/Player (2009 Model)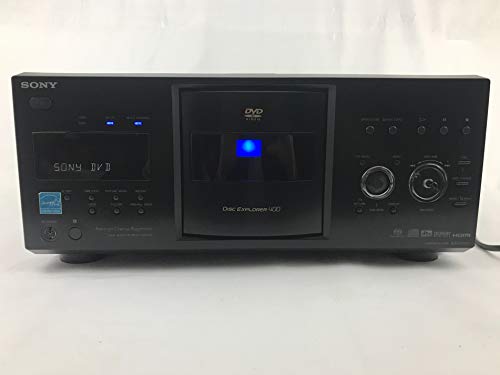 Sony DVPCX995V 400-Disc DVD Mega...
Dolby Digital and DTS 5.1-channel output
Outputs: 1 HDMI, 1 component, 2 S-Video, 2 composite, 1 coaxial audio, 1 optical...
Up-converts video to high-definition (1080i/720p) resolution
Last update on 2022-07-30 at 21:05
We're starting off with the big boy. This Sony DVD changer holds a whopping 400 discs! Some of you can likely fill that easily, but this is way more than enough for most of us. Still, no one says you have to use every slot. Even if you have a collection of 50-100 discs, something like this would be perfect. Your clutter will be reduced because you can use your DVD changer to store everything and keep the cases packed away.
Up-conversion on this beast doesn't hit the ceiling, but it will do 720p and 1080i just fine. It's compatible with virtually all CD and DVD types, including the less common VCD and SACD. MP3 and JPEG are available as well in case you want to burn music or photos.
It comes equipped with Dolby Digital and DTS 5.1 surround sound. Available connections include HDMI, component, S-Video, composite, coaxial audio, optical audio, and multi-channel. What else could you possibly want? The last thing we'll say about this model is to pay close attention to its dimensions. It is massive. You'll want to be certain you have enough space to accommodate its size.
Sony DVP-NC85H/B HDMI/CD Progressive Scan 5-Disc DVD Changer, Black

Last update on 2022-07-05 at 16:35
Here we have a very well-rounded Sony DVD changer. It's capable of swapping between five discs at a time. Five is about the average for these smaller multi DVD changers. It has a built-in technology that's designed to give even more exceptional picture quality than standard upscaling. Video is normally read and displayed line by line, but the Sony DVP-NC85H/B works directly at the pixel level. This means you get the sharpest possible image every time.
The multi-disc resume is a handy little feature. You can pause a movie and have it pick up right where you left off. The best part is that it works for up to 40 discs. That's right; your disc doesn't even need to stay in the player to resume at a later time.
5.1 surround sound is also included here, as well as another exciting feature called "Precision Drive 3." Precision Drive 3 is specially designed to help the device play scratched and warped discs. Maybe you'll finally be able to play your old favorite movie that you never thought would work again. There will also be a reduced risk of buying used discs and having them not function.
Sony DVP-NC800H/B HDMI/CD Progressive Scan 5-Disc DVD Changer Black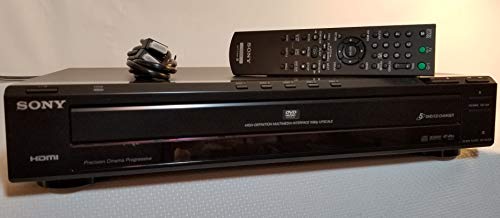 Last update on 2022-09-08 at 18:45
Another Sony DVD changer, and that's not a coincidence. Sony makes consistently excellent quality in the world of DVD players and changers. Their longevity is unmatched. The market is shrinking, so it's more important than ever to find a machine that will last you many years.
The Sony DVP-NC800H/B is a five-disc changer. It has the multi-resume feature built-in, which works with up to six discs. The biggest selling point with this model is its up-conversion. It's the only one on our list that is capable of full 1080p.
1080p won't matter to some people, but for others, this is a huge deal. The fact is, 1080p is the pinnacle of quality when it comes to DVDs, so that's what to go for if you want nothing but the best viewing experience. If you happen to own a Sony Bravia TV, this unit will sync with it for expanded functionality.
Onkyo DXC390 6 Disc CD Changer

Onkyo DXC390 6 Disc CD Changer,Black
Remove and replace 5 CDs as one continues to play. Dimensions (W x H x D):17 1/8...
Plays Audio CDs, MP3-Encoded CDs, CD-R/RWs, Digital filter 352.8 kHz
192 kHz/24-Bit Audio DAC and Direct Digital Path;Frequency Response : 5 Hz-20...
Last update on 2023-05-29 at 11:00
Not everyone likes to spend time watching movies. It takes more focus and dedication than turning on some music. Maybe you prefer to enjoy some tunes while you do things around the house or just sit and rock out.
The Onkyo DXC390 is a great place to start. It holds up to six CDs and one time, and you can swap out the remaining five while one of them keeps on playing. Program up to 40 tracks in a list or put it on shuffle and see what you get.
There are six different repeat options available. Choose from full-disc, programmed tracks, all discs, and more. It will even play your burned MP3 CDs.
Yamaha CD-C600BL 5-Disc CD Changer Black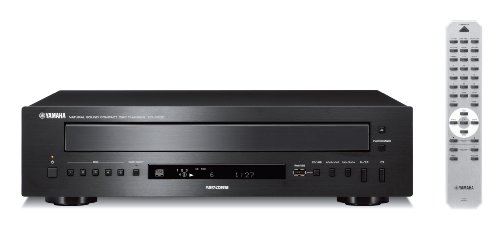 YAMAHA CD-C600BL 5-Disc CD Changer Black
Yamaha's patented PlayXchange for enjoying uninterrupted music
Full opening disc tray for changing 5 discs at a time; Output: Optical
USB port on front panel for iPod and other devices. Frequency Response : 10...
Last update on 2022-09-08 at 18:45
This Yamaha CD changer is one of the sharpest looking machines on our list. Appearance is the least of our worries, so that's not why it's here.
With the CD-C600BL there's no need to stop your jams to swap discs. In fact, it's specifically engineered to minimize interruptions as much as possible. This is accomplished with Yamaha's Playxchange technology. It keeps the music flowing by queuing up the next song, so you don't have to listen to silence while you wait.
Good news for those of you who still like to make mixed CDs; this model not only plays MP3 files but also WMA. The possibilities are endless.
Final Thoughts
As we stated in the beginning, times are changing. The silver lining is that it's a very slow process. Do you know why that is? It's because there are more people than you might think that want to keep things the way they are.
If you want to continue to enjoy CDs and DVDs as long as possible, support the industry and let them know you still want something you can hold in your hands. The best place to start is with a solid piece of equipment that will stay with you well into the future. We've given you a great place to start. Wherever life takes you from here, just remember one thing. Don't let the discs stop spinning.