Very in-depth research went into this review, including cost, feedback from real users, and much more!
Micro Mechanic is designed to plug directly into the data port of your vehicle and send feedback over the air through Bluetooth to your cellphone. You are meant to use it when you notice a warning light on your vehicle's display area on the dashboard.
The Micro mechanic website is very thorough in the information it provides. It tells you that you first need to download the official Micro Mechanic app or another compatible application. Compatible apps include OBD Car Doctor, DashCommand, Mini OBDII, and Carista, among others.
The Micro Mechanic app is compatible with both iPhone and Android smartphones. To begin, simply inset your Micro Mechanic securely into your car's OBD-II port an load up your app. Easy-to-follow instructions will appear on your phone screen, and all you have to do is whatever it says on display. It will let you know of any issues it detects almost instantly.
Whether it's a minor problem or a major one, the Micro Mechanic app will provide you with an estimated cost of repairs. This way, you have all the knowledge you need to decide how to proceed in regards to repairs. Another included feature is that it can remind you to perform standard maintenance tasks on your vehicle, such as oil changes.
Sounds incredible, right? Keep reading to find out if Micro Mechanic is right for you. We answer the tough questions, so you know exactly what to expect. After we discuss the functions of Micro Mechanic, we'll take a look at what real users have been saying.
About Micro Mechanic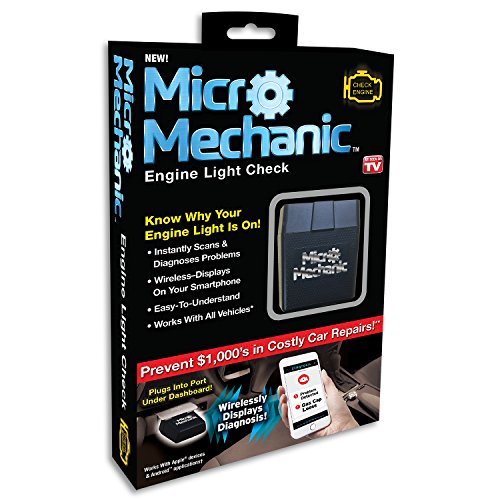 Ontel Micro Mechanic | ODB2 Portable Check...
Simply plug into vehicle's diagnostic port. Instantly shows you what's wrong...
Bluetooth wirelessly displays information on your smartphone. Retrieve real-time...
Any problems are displayed in easy-to-understand terms. Works on all vehicles...
Last update on 2022-09-06 at 20:06
OnTel Products Corporation, out of New Jersey, is the creator of Micro Mechanic. The company has a great reputation and maintains a B score according to the Better Business Bureau, an organization that tracks a company's business practices. Someone from OneTel will be happy to speak to you about any complaint or concern you might have about their Micro Mechanic product.
If you're unhappy for any reason with Micro Mechanic, they provide you with a sixty-day money-back guarantee. Please bear in mind; you will be responsible for the shipping charges should you decide to return the unit. That means there is minimal risk to you if you want to try it out to see how you like it. One more thing to note is just how durable this piece of equipment is. You'll only need to buy it once, and it will last you for many years to come.
Don't let your vehicle sit and rot because you're worried about a huge bill just for diagnosing the issue, get Micro Mechanic and have yourself back on the road in no time. If you can't tell already, This device gets two thumbs way up from us and Highly recommended.
Cost
You can order Micro Mechanic directly from their official website. The unit itself costs $19.95, with free shipping included. You'll have to pay a $1 web service fee, however. You'll receive an option during checkout to add a second Micro Mechanic to your order for just $9.95, which is a great gift idea. The money-back-guarantee is standard on all orders, and if you have any problems, you can call customer service at 1-800-245-1754.
Is It Worth a Purchase?
Micro Mechanic was designed to be compatible with OBD-II ports. These special ports were designed by the Society of Automotive Engineers to meet the standards set by the California Air Resources Board. Every car sold in the US since 1996 has an OBD-II port installed.
The devices that utilize the OBD-II ports were originally out of the price range for most people. Due to the advancement of technology, we're finally at a point where they're very affordable. You can find them in almost any store that sells car parts.
Features
The cool thing about OBD-II devices is that they allow you to read the codes and figure out the issue without needing to pay a mechanic to do it for you. According to Jeremy Laukkonen from Lifewire, most OBD-II code reading devices only can read and display codes, and that's the extent of their functionality. More advanced scanning equipment can view information that's either live or recorded, as well as offering additional testing and settings features.
Micro Mechanic just happens to be one of the OBD-II devices with expanded functions. The official Micro Mechanic app is completely free, meaning you only have to pay for the physical device. The app lets you scan and diagnose, as well as figure out why you check engine light came on. When you have all the info you need, you can reset the warning light from inside the app.
One of the more exciting features of the Micro Mechanic app is the estimated cost of repairs. This is great to know, so you can consider your options very carefully before deciding on repairs and ending up with a larger than expected bill. The source for the repair estimates are taken from averages across the country, so your situation may vary a little bit.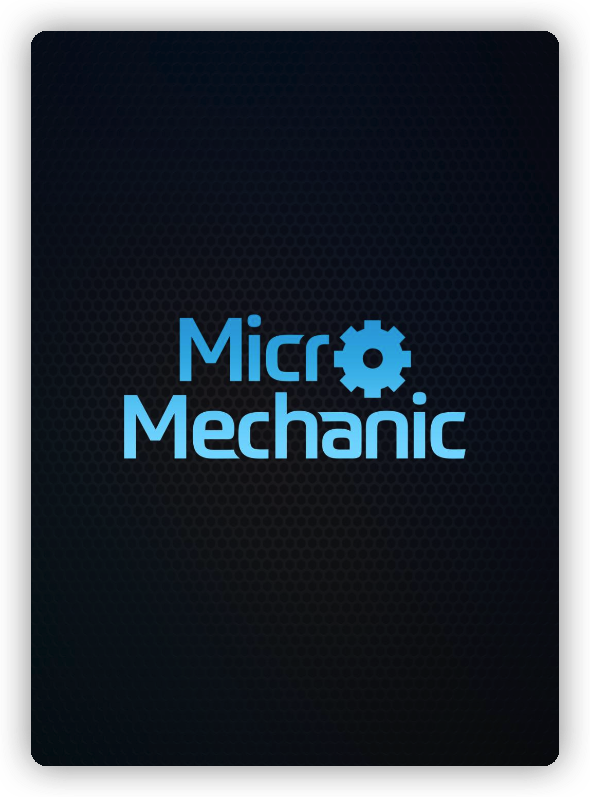 How it works
The Micro Mechanic goes way beyond just giving you error codes; it actually lets you know exactly how urgent the problem is. It goes so far as to tell you if it's safe to drive your car in its current condition or if you need to get it fixed immediately. That's a convenient feature to have. Maintenance scheduling works by detecting your car's mileage and suggesting actions based on how far you've driven since your last oil change or other regular tasks.
Reviews from customers
There are tons of customer reviews found on third-party websites if you take the time to look around. iTunes and Google Play are where you can find the app, so that's also where a lot of the reviews for Micro Mechanic are located. In all, there were well over twenty customer reviews for the Micro Mechanic OBD-II port device as well as the companion application.
After carefully combing over all of the reviews, we have concluded that this device and app combination has received a score of around four stars out of five. Not too shabby. Many of the reviews praise this device for how easy to use it is, the plethora of included features, affordability, and the excellent customer service that comes along with everything else.
The only complaints we found were in regards to the check engine light feature. We'll go over some real online reviews for you now.
Micro Mechanic works wonders for resetting codes. I kept receiving a check engine light in my 2010 GMC Acadia. As it turns out, it had a cylinder four misfire. This caused my remote start to stop functioning altogether. I had no idea about this problem until I got my hands on Micro Mechanic. The other five cylinders ran perfectly fine. Thanks to this device, I was finally able to solve the mystery and get the proper repairs completed. I was then able to clear the code and could start my vehicle with the remote starter again. The remote is a lifesaver because of the extreme cold we experience in Pennsylvania. I'd happily recommend Micro Mechanic to anyone I know.
I bought my Micro Mechanic from Walmart, and I was able to do it right from inside the app. All I had to do was go to the store and pick it up. I spent just $19.95 on the device. I had my unit the very next morning after purchasing. That's what I call convenience. My check engine light kept going on and off, so I went ahead and inserted the Micro Mechanic into my OBD-II port and fired up the app. Once the app was loaded, it instantly displayed the error code P0657. With this information, I was able to go to the garage and get my problem repaired right away. I'll never believe anyone ever again when they try to tell me that diagnosing a car problem costs a fortune.
Just got my Micro Mechanic today. The first thing I did was to download the official app and synced the device to my iPhone. As soon as I scanned, the device picked up exactly what was wrong with my car. No, that I know the problem, I'm off to the shop to have it fixed. Micro Mechanic and the included app are so simple to use and are super quick. I recommend Micro Mechanic to every person who owns a vehicle.
Final Conclusion
We didn't use the Micro Mechanic ourselves during our studies, but we've found just about everything one would want to know about the unit. There is a lot of value packed into that little box and accompanying app. With all the features such as Bluetooth, maintenance reminders, code translation, code clearing, and more, Micro Mechanic really stands out above its competitors.