If you don't like to spend a considerable share of your paycheck on video games, then you probably are aware of platforms alternative to Steam or Origin that offer game keys for much cheaper prices. Among them is CDKeys, a fairly popular name on the third-party game key market.
Is CDKeys legit though (and other similar platforms for that matter)? Is it too good to be true, or is it a place where you can safely buy keys from?
Well, let's find out!
What You Should Know About Third-Party Game Key Resellers
Before looking at CDKeys, we feel that you should be first introduced to what the third-party (also called gray-market) game key reseller industry is.
You probably know about game distribution platforms like Steam and Origin. These platforms are authorized by game publishers for game selling. They also are respectable platforms that have been on the market for years, and the vast majority of gamers buy their games there, especially since the times when physical games started to decline in popularity.
Distribution platforms like Steam are as safe as they can be, as well as offer a variety of games to you with multiplayer experience in some. With that being said, games on these platforms can be pretty expensive, especially triple-A titles. $50 for a game isn't a rare thing here, though you can occasionally reap the benefits of discounts and bundle deals.
On the other hand, we have game key resellers, among which is CDKeys. These get their hands on game keys through methods which differ significantly from key reseller platform to platform. And most importantly, they are not authorized by game publishers to sell their games.
And while you can find legit game keys that work on Steam or Origin for a cheaper price, you may come across a scam every once in a while on reseller sites.
Why is the gray-market key industry risky?
The main problem with the reseller industry is that it's very difficult to confirm where the key really comes from. On Steam or Origin, the keys come directly from the publisher. On key reseller platforms, you don't really know the keys' origin.
This could lead to a variety of problems. Game keys can be stolen and resold to end users on third-party platforms. And then, stolen game keys are usually revoked on destination platforms. A post on Reddit brings a few examples of cases where thousands of keys purchased from third-party resellers have been revoked.
And by the way, do read the referenced Reddit post since it contains very useful information.
There are also certain problems connected with the pricing on key reseller platforms. While you can get game keys at websites like CDKeys for less money than on authorized distribution platforms, there are a few things to keep in mind here.
You see, the prices of games differ depending on where they are sold. In poorer regions, games can be significantly cheaper than in Europe or the US.
This can be the case for some other areas as well. For example, in Russia, PC games cost much less than console games. The console game prices don't differ much from prices in the US or Europe, but PC games can cost 4-5 times less than their console versions.
And well, key resellers somehow acquire game keys from those cheap regions, add their markup, and sell the keys for a lower price than on authorized platforms. In other words, they are taking benefit of the price differences between markets.
So yeah, you could get a game for a much cheaper price, depending on the title. But one thing to know here is that some game keys may have a regional lock. A game key locked to Russia can't be used anywhere else unless you use a VPN.
However, the Steam subscriber agreement, for example, forbids the use of IP disguising methods to circumvent geographical restrictions of games. Due to this, if you are caught using a VPN on a geographically-locked game key, your key will at least be revoked, and you may even lose your Steam account. Such restrictions are also imposed by other distribution platforms.
So all in all, the three key (no pun intended) things that you should know about key reseller platforms are:
You can get game keys for less money than on your regular distribution platforms.
You can't really know where those game keys come from. They may have been stolen from the publisher.
Keys purchased through a reseller may be revoked due to a variety of reasons.
This hopefully gets you an idea of what to expect from the game key reseller industry.
With that being said, let's roll straight into the subject of this post – the legitimacy of CDKeys.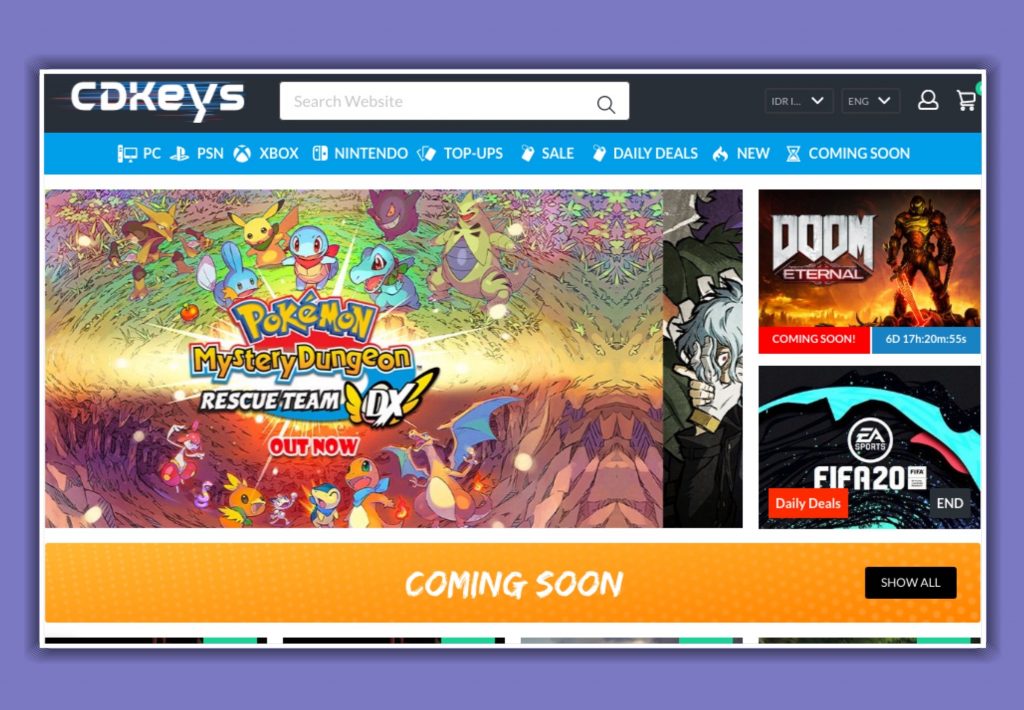 What Is CDKeys?
CDKeys is an online store selling game keys. CDKeys offers game keys for a variety of platforms, including PC, PS4, Xbox One, and Nintendo Switch.
Game keys are the primary products on the platform, but CDKeys also sells gifts cards and wallet top-ups for Steam, Google Play, App Store, and a few other platforms. You may also buy PSN and Xbox Live memberships from CDKeys.
CDKeys is pretty similar to many other competing game key platforms – most notably, Kinguin and G2A. However, the product selection of these particular platforms is quite a bit wider, including software keys, gaming accessories, smartphones, and other physical goods.
In contrast with them, CDKeys is solely focused on games and throws in monthly subscriptions and gift cards as a bonus.
There are a few other things that make CDKeys stand out from other platforms, but more on this a little bit later.
CDKeys is less known to people than G2A and Kinguin. The latter appear to be much more aggressively promoting their platforms, with G2A having worked with a huge number of companies and influencers. Not only that, the nearly 300 thousand user reviews on Trustpilot versus the around 20,000 that CDKeys has clearly show the abyss between the two platforms in terms of popularity.
How Does CDKeys Work?
Now that we have an idea of what CDKeys is, let's overview how it works.
Where does CDKeys get game keys from?
To be fair, there is little information on where CDKeys gets game keys from. Well, this is what we said about the key reseller market earlier – the biggest issue with it is that you don't know where the keys come from.
With that being said, CDKeys seems to be a little bit more trustworthy than its competitors, particularly G2A.
The thing is that CDKeys acquires and sells keys itself, whereas G2A allows individual sellers to sell goods and services on the platform. Since you are dealing with many different people on G2A, there are many variables at play.
G2A does offer a money-back guarantee for keys that aren't as described or don't work, but having to deal with scams is always stressful, and the refund process may not always go smoothly.
Back onto CDKeys' source of game keys.
As CDKeys writes on its FAQ page, it "buys from all corners of the globe to ensure the cheapest possible prices." CDKeys also sells only digital products to save on postage and related costs.
What this probably means is that CDKeys uses the price difference of games between different markets to make a profit. We've described above how this is done, as well as what risks are associated with it.
Now, CDKeys doesn't share how exactly they get their hands on cheap game keys. This is kind of a black box that you will have to close your eyes on. That's just the way it is, and you won't be able to find out more than CDKeys wants you to.
How do you get game keys from CDKeys?
Purchasing a digital product from CDKeys is simple. Here's what you need to do:
Sign up on the platform.
Add the desired product to your shopping cart.
Pay for the product.
Complete phone verification, which is done for first-time customers after the purchase of a game key. If you fail to verify your phone number, the order will be canceled.
You will receive an email with the scanned copy of the key inside.
Enter the game key on the platform of choice (or which was indicated on the key's product page) and install your game.
Are there any refund policies?
CDKeys looks at each refund request individually. With that being said, CDKeys does not provide refunds for games that have already been played or already redeemed keys. However, if you've got a key that is not working, CDKeys may be able to work it out for you.
But since they review each refund request on a case-by-case basis, you may not be able to get your money back or receive a working key.
What Do People Think About CDKeys?
At the moment of this review's writing, CDKeys had a 4.6-star rating on Trustpilot based on 18,684 reviews. For contrast, G2A had a 4.2-star rating based on 279,951 reviews.
If you also look for feedback on platforms like Reddit, you will see a lot of satisfied buyers from CDKeys. There are some people who didn't have a good experience with CDKeys, but most did.
Well, it seems that many people have been satisfied with CDKeys, which means that they do sell working game keys. Does this mean that CDKeys is legit or that it's a good platform to buy game keys from? This is quite a controversial topic, but let us give you our opinion on it.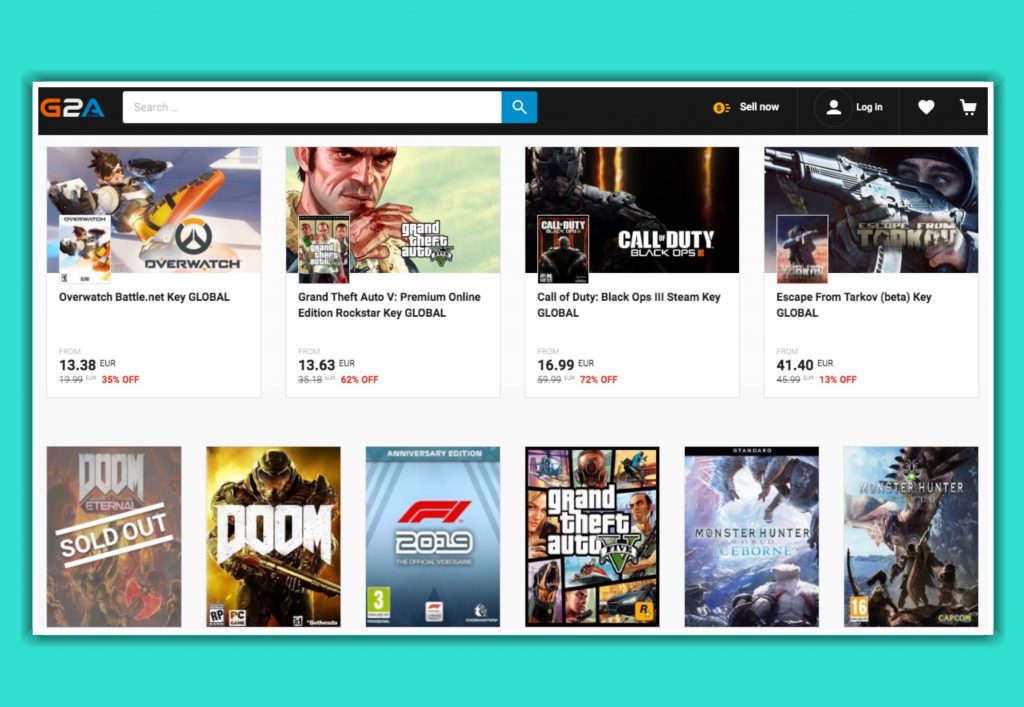 Is CDKeys Legit?
So is CDKeys legit? To be more precise, do the game keys sold at the platform work?
Well, they seem to be working, with the greatest testimony to this being thousands of positive user reviews.
Does this mean though that you should buy game keys from CDKeys?
While you can save a lot of money in the long run by buying game keys from CDKeys, we think that the risks involved aren't worth it. As a player in the gray-market reseller industry, CDKeys isn't an authorized seller of game keys.
Unlike popular platforms like Steam, Origin, or GOG, CDKeys doesn't acquire game keys directly from publishers. CDKeys acquires game keys by ways known only to its team, and you can't know how lawful their methods are.
We've mentioned the main risks associated with buying keys from third-party key resellers:
Scams or not working keys.
Revocation of game keys after redemption.
The use of VPNs to circumvent geographical restrictions.
With that being said, CDKeys definitely isn't like those fly-by-night websites that are there to quickly get rid of stolen keys and earn money. CDKeys has been in the industry from roughly the early 2010s, and the fact that it's still operational shows that it's been working.
We strongly recommend though that you buy games only from authorized retailers. Use the retailer list provided by the afore-mentioned Reddit post and also check on the publishers' websites to see who is authorized to sell their products.
To stay on the safer side, only buy from Steam, the Epic Store, Origin, GOG, or other platforms authorized by publishers. It will cost you more, but you won't be running any risks associated with the shady methods of getting keys.
And by the way, do not forget about the discounts and bundle deals that sometimes pop up on distribution platforms. If you are a little patient, then you could save a lot of money without having to buy game keys from questionable sources.
Final Words
It's up to you whether to take the risk and buy cheap game keys from CDKeys. Our task was to provide you with some background information on the gray-market reseller industry and give an opinion on CDKeys (and on other reseller platforms for that matter).
Game keys purchased from reseller platforms aren't authorized by the publisher and will not be supported by them. By buying a game key from any reseller platform, you are solely responsible for all the risks involved. And the money-back guarantees provided by reseller platforms probably won't be able to protect people in all cases.
Well, make sure to make informed decisions and stay safe!